Home
/
Franchise Notes
/
Oops! Preds reportedly don't file Qualifying Offers for four key players…
Oops! Preds reportedly don't file Qualifying Offers for four key players…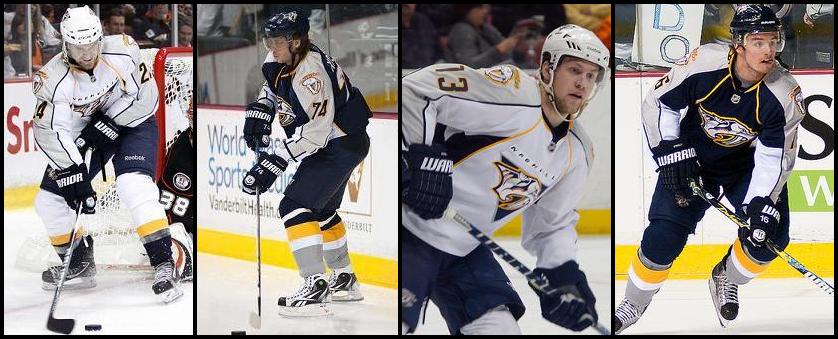 SportsNet analyst and former NHL'er Nick Kypreos tweeted this morning that the Nashville Predators have some problems with their paperwork.
He's reporting that the Preds failed to file Qualifying Offers to seven restricted free agent forwards: There's Linus Klasen who's already signed in Europe, Andreas Thuresson who's also headed to Europe and Chris Mueller who will be in Milwuakee anyway. But then the list gets dangerous. Leading scorer Sergei Kostitysn, top penalty killer and jack-of-all-trades Nick Spaling, double overtime hero Matt Halischuk and talented playmaker Cal O'Reilly. All were restricted free agents who made less than $1 million last season. If qualified, each player would be re-upped for one more year at no more than a 10% raise. Which, for example, means the Preds would get their leading scorer back for approximately $610,000.
Can you imagine if they lose that kind of production for that kind of money?
And what about O'Reilly? Sure he was injured for the majority of the season last year but not only was he a point-per-game scorer at the AHL level but he was the one of Nashville's leading scorers when he went down with a broken fibula. Unlike the year before, he came into training camp last summer motivated and ready. And he proved it by exploding for 18 points in the first 27 games. Only his linemate Steve Sullivan produced more (20). The real Cal O'Reilly had finally arrived! And then January 2 came and he was shelved for the rest of the year. Considering he arrived in camp complacent two years ago and then spent the majority of the campaign on injured reserve this year, many questioned whether or not the Predators would bring him back for one more go 'round. That's when General Manager David Poile told section303.com that they had. Which makes this whole Qualifying Offer thing all the more strange.
Then there's Halischuk. The "throw in" by the New Jersey Devils in the Jason Arnott trade last summer. Not only did he manage 12 points despite getting just 10:04 of ice time per game (a team worst among players who played more than 20 games) but all four of his regular season goals came in Nashville victories. Even more impressive is that all 12 times he appeared on the scoresheet, the Predators got at least a point in the standings (8-0-2).
But possibly the biggest loss of all would be Spaling. O'Reilly hasn't shown he can produce at the NHL level on a consistent basis, Halischuk is a role player and Kostitsyn, until he proves otherwise, may have been a one-hit wonder. But Spaling can do anything. You can put him on the fourth line and get solid minutes out of him there, you can stick him on the penalty kill and he'll excel there or you can give him some shifts with the second line and he'll produce there. He's very "Marcel Goc-esque" that way. To lose a guy that versatile, for that kind of money (approx. $800,000), would be an epic fail.
But, then again, losing any of the four for absolutely nothing would be an epic fail. Kostitsyn may not be a one-hit wonder. What if O'Reilly's injury was just a fluke? What if Halischuk's clutch production is just a pre-cursor to next season? And what if Spaling will be called upon for top line minutes due to injury next year and he blows up, a la his Kitchener Rangers days? All four are valuable in different ways. Especially for a team who doesn't score a lot of goals.
Keep in mind too that if these four guys do, in fact, become unrestricted free agents on Friday because of the blunder, whatever plan Poile and the Preds had in place for July 1 is completely useless. For a team that prides itself on having plans one, two and five years out, having four important forwards suddenly leave without any compensation could derail the franchise's course.
And that, come to think of it, may be the biggest blunder of all.
UPDATE (11:40am): Josh Cooper of The Tennessean has posted a statement by NHL Deputy Commissioner Bill Daly. It, in short, says nothing was mis-filed and that all RFA's in question were tendered offers in a timely manner. This basically puts an end to Kypreos' allegations. Which, quite frankly, we should never have trusted anyway. This is the same guy who, during the Preds/Leafs telecast last November, said that Shea Weber couldn't wait to leave Music City.
—
NOTE: If you want another perspective on the situation, including a more detailed breakdown of the details, Sam Page has written an excellent post HERE.
—
About Jeremy K. Gover
Jeremy grew up in the Bay Area cheering for the Sharks since their inception. He moved to Nashville in September of 2005 and became a season ticket holder a day later. Thankfully, he no longer bleeds teal. You can e-mail Jeremy at [email protected].
Upcoming Schedule
Tampa Bay at Nashville

December 7, 2023 at 7:00 pm – 10:00 pm

BSSU, BSSO, ESPN+

Nashville at Toronto

December 9, 2023 at 6:00 pm – 9:00 pm

BSSO, NHLN

Nashville at Montreal

December 10, 2023 at 6:00 pm – 9:00 pm

BSSO, ESPN+

Philadelphia at Nashville

December 12, 2023 at 7:00 pm – 10:00 pm

NBCS, BSSO, ESPN+

Nashville at Carolina

December 15, 2023 at 6:30 pm – 9:30 pm

ESPN+

Washington at Nashville

December 16, 2023 at 7:00 pm – 10:00 pm

BSSO, MNMT, NHLN

Vancouver at Nashville

December 19, 2023 at 7:00 pm – 10:00 pm

BSSO, ESPN+

Nashville at Philadelphia

December 21, 2023 at 6:00 pm – 9:00 pm

NBCS, BSSO, ESPN+

Dallas at Nashville

December 23, 2023 at 2:00 pm – 5:00 pm

BSSW, BSSO, NHLN

Carolina at Nashville

December 27, 2023 at 7:00 pm – 10:00 pm

BSSO, ESPN+