About-face! Rinne to play for Finland in Worlds after all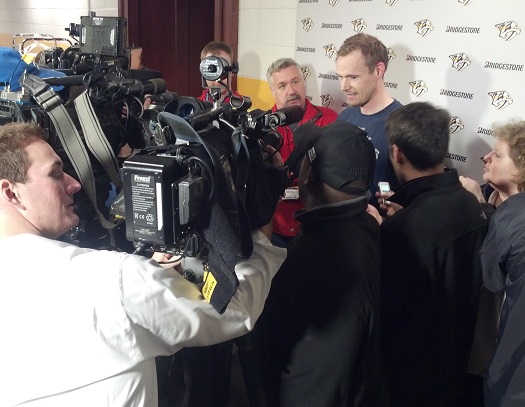 What a difference a week makes.
We spoke with Nashville Predators goaltender Pekka Rinne last Monday and asked him whether or not he'd be suiting up for his native Finland at the 2014 World Championships.
His response: "I saw the doctor this morning and he wasn't too excited about it. I still have to kind of discuss it [with him] but he's not recommending that."
On Tuesday, however, Josh Cooper reported that he will, after all, play in the Worlds.
From The Tennessean:
"It's a great sign that he'll be getting more game action," general manager David Poile said. "Because of the time he missed, he didn't get to play enough hockey this season, so he's still eager to play. His health is good and playing in the tournament bodes well for the future."
Poile is right, he could use the work. A strong showing in Belarus next month could be just what he needs to get his confidence and swagger back. Rinne went 10-10-3 in a disappointing season that saw him on the shelf for over four months with an E. coli infection in his surgically repaired hip. He played two games for the Milwaukee Admirals on a rehab stint and played really well there, allowing just two goals in two games. Then, in his return to NHL action, he wasted no time making this incredible stop. He went 6-6-2 since returning and did his absolute best to squeak his team into the playoffs but it was not to be. He took losses personally and, considering Nashville didn't make the playoffs and promptly dismissed the only head coach in team history as a result, Rinne shouldered a lot of the burden.
"It's been a tough year mentally," he said. "So many times I thought 'what if this injury hadn't happened?' But it's so easy to think like that and you can't really think like that. I would like to think that, had I been healthy, I would have been able to play a full, solid season but obviously that's not the case."
Fellow Predators Seth Jones (USA), Craig Smith (USA), Ryan Ellis (Canada), Roman Josi (Switzerland) and Mattias Ekholm (Sweden) are also competing in the annual tournament.
Finland starts play against Latvia on May 10.
---
PHOTO CREDIT: Jeremy K. Gover // section303.com