An NHL fine coming to Trotz for post-game comments?…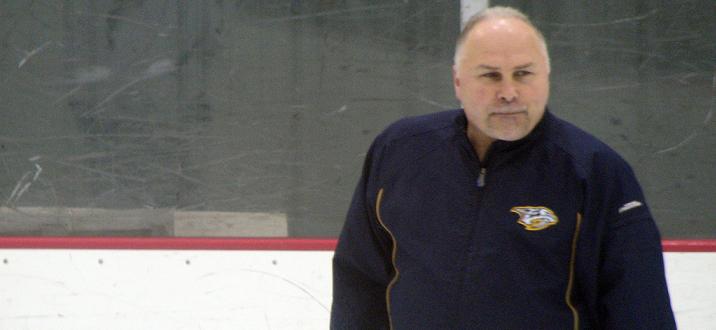 Four nights ago, in a big game against the Philadelphia Flyers, the Nashville Predators thought they had taken a 2-1 lead when the officials waved off the go-ahead tally because, supposedly, Patric Hornqvist interfered with goaltender Sergei Bobrovsky. In Monday night's game against the Edmonton Oilers, rookie Jordan Eberle clearly interfered with Pekka Rinne but his tip-in was allowed to stand, giving Edmonton the 3-0 lead.
You be the judge.
This did not sit well with the Predators. First, Rinne sounded off about the controversial goal.
"If that's not a goalie interference (call), I don't know what is," Rinne told Inside Hockey. "The guy hit me on my blocker-side shoulder and there was no way I could try to make a save. I don't get it. I was furious. We didn't lose because of that, but still, that's not a goal."
Rinne is clearly speaking out of emotion there. Even when not using emotion-based words like "furious," he's stating his opinion with the phrase "If that's not goalie interference, I don't know what is." All borderline language in regards to criticizing an on-ice official.
Head Coach Barry Trotz, on the other hand, was not borderline.
"The third goal shouldn't have been a goal," Trotz said in his post-game press conference. "It was totally interference. Please! We scored a goal in Philadelphia, we never touched the goaltender and it got called back. Peks gets run over and they allow it."
First of all, if you've listened to Trotz for any length of time, you know he's not one to call out a referee. He'll tell you what he thinks but he'll refrain from using hard-stance language like "That shouldn't have been a goal," or a sarcastic "Please!" Not to mention comparing two games to one another and basically saying both calls were wrong. His usual way of handling controversy is something along the lines of "I wouldn't have called it that way but…" or "I couldn't see it from the bench the way they saw it on the ice but…" Almost never does he take a matter-of-fact stance on how the officials got it wrong.
Obviously this is hardly a Dean Lombardi-type case where the Los Angeles Kings GM made a ridiculous statement accusing an NHL War Room official of being bitter because Lombardi got the LA General Manager job instead of him. (He was fined $50,000 for those comments, by the way.) To an even lesser extent – and less dramatically – this is closer to when Chicago Blackhawks coach Joel Quenneville was fined $10,000 in 2009 for saying the officials "ruined a good hockey game and absolutely destroyed what was going on the ice."
In my opinion, I don't think Trotz should be fined for his comments. Were they more abrasive than usual coming from him? Absolutely. But did he accuse the referees of blowing the game or giving the opponent two points? No. And I think for that reason alone, we won't see a fine come Trotz's way.
I would not be surprised to hear that the NHL sent him a warning letter though.
—
PHOTO CREDIT: Paul Nicholson (used with permission)