Who should Poile and the Preds target at the deadline?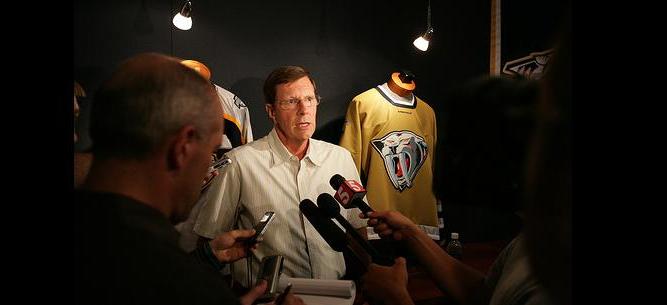 The trade deadline on February 28 isn't as sexy as most years. There's no Ilya Kovalchuk. There's no Ray Whitney. Heck, there's not even a Dan Hamhuis. The biggest name rumored to be available this season is Dallas Stars forward Brad Richards. And speculation even has him staying in Texas long-term.
So who's out there for the Nashville Predators to target? What forward would actually be an upgrade from what's on the roster now?
General Manager David Poile is known for making lateral moves at the trade deadline. In 2008 it was Jan Hlavac. In 2010 it was Dustin Boyd and Denis Grebeshkov. Matter of fact, not since he went out and got Peter Forsberg in the 2006-07 season has Poile went to the plate looking for a homerun and hit one.
Which begs the question: do the Predators follow the pattern they've set for themselves and just acquire a depth forward? Does Poile actively try to fill the "scoring winger" hole that's been a need on this hockey team for years? Or do the Preds stand pat and consider the re-addition of Cal O'Reilly and (hopefully) Matthew Lombardi into the lineup their "deadline moves?"
Thanks to recent radio interviews with C.E.O. Jeff Cogan and C.F.O. Sean Henry, it's pretty clear the GM has the freedom to go out and get whoever he feels would make the team better. Poile, himself, has even stated that he'd like to add "a top six forward." So, going on that, let's look at 10 players who are rumored to be available and whether or not they could help the Predators in their quest to advance past the first round in franchise history. 
PLAYER #1 – Mike Fisher (Ottawa Senators)
Let's just get this one out of the way now. This is the easiest trade rumor to come up with thanks to his marriage to Nashville-resident Carrie Underwood. I mean, let's be honest, who would want to be "Mr. Carrie Underwood" but live 1,030 miles away from her? Anyway, point is, it's an easy connection to make when trying to come up with "feasible" deadline day rumors.
Here's the facts, however. Fisher's cap hit is $4.2 million for the next two seasons beyond this one. He'll be 31 years old this summer and he's only scored more than 50 points in a season once. He also has a no-trade clause in his contract, allowing him to dictate where, if anywhere, he's traded. Alright now, at first glance, who does all that remind you of? A guy who'll be in his 30's this summer, makes over $4 million a year, maxes out at 50+ points and who has an NTC?
That's right, our very own Martin Erat.
So, knowing that the Preds would only be saving $0.3 million in cap space for probably the same offensive production, you'd only be making this move if it were believed that a change of scenery would do Fisher good. Add to that, if you're going to bring in a contact of that size, you need to move a contract of that size. Which, if you're Poile, leaves you JP Dumont, Erat, David Legwand and Shea Weber. It goes without saying Weber's not going anywhere, Erat and Legwand give you almost the exact same production year-in and year-out so that'd be pointless and while Fisher would be an upgrade over Dumont, JP has next to zero trade value with his current price tag. That's not to mention all those guys (sans Weber) would have to waive their no-trade or no-move clauses to be dealt.
BOTTOM LINE ON MIKE FISHER: Too expensive for what he'd bring.
PLAYER #2 – Jason Arnott (New Jersey Devils)
Another easy trade rumor. This one spearheaded by Eklund over at HockeyBuzz.com who, you know, is always right.
*rolls eyes*
First of all, Arnott has that monster $4.5 million contract Poile smartly – and miraculously – moved last summer and the Preds can't afford that kind of money for that kind of production. Secondly, how would it be in the locker room when Weber, the captain, had to talk to Arnott, the former captain? Thirdly, in return, the Devils are going to want some young talent to re-build their club with. What would Nashville be willing to give up to get a player of Arnott's advanced age back? Not much.
BOTTOM LINE ON JASON ARNOTT: Nashville was thrilled to get rid of him in the first place. We don't want him back.
PLAYER #3 – Zach Parise (New Jersey Devils)
This one falls under the "pipe dream" category. The Predators would love to bring in a guy like Parise. He's a consistent 30+ goal guy, he's been a point-per-game player for the past two regular seasons as well as a point-per-game player for the past four playoffs, he's a former 45 goal scorer on a traditionally defensive-minded team, he's only 26 years old, his cap hit is only $3.1 million, he'd fit that "scoring winger" need the Preds have always had and, when his contract expires this summer, he'll be a restricted free agent. What's not to love?
What's not to love is the cost to get him. It'll take more than a high draft pick to pry Parise away from Jersey.
To part with Parise, an RFA or not, the Devils are going to be demanding high value. Like, ridiculously high. Like, Ryan Ellis high. Would David Poile be willing to part with a bluechip defensive prospect like Ellis to add a key cog to the offense? I think the answer is simple. A resounding "YES!" if they can sign him to a long-term deal. A resounding "NO WAY!" if he'd just be a rental. But… if Poile could bring Parise into the fold by signing him long term, (assuming he also re-signs Weber, Ryan Suter and Pekka Rinne) all of a sudden, Nashville has the building blocks to compete year-in and year-out in the National Hockey League. Ryan Ellis could be the key to that success, just not as they had originally planned. Besides, Parise is a bonafide star now while Ellis might become one later. That makes it pretty cut and dry, don't you think?
BOTTOM LINE ON ZACH PARISE: The ceiling is so high with Parise that he's the only player on this list that I would gladly give up Ryan Ellis to get. But again, only if it means he's not a rental.
PLAYER #4 – Devin Setoguchi (San Jose Sharks)
This one seems great. Just a year ago Preds fans would've loved to have seen Setoguchi in a Nashville sweater. What a difference a year makes, eh? In 2008-09, the Taber, Alberta-native burst onto the scene by scoring 31 goals and registering 65 points in his first full NHL season. Then, on this date last year, Setoguchi had 25 points in 47 games. A little dip in production but not by much. Here we are one year later and he just now posted his 20th point. Add to that, he's in the middle of a six-game scoring streak (seight points) which means, in the 39 games before the streak, he had only found the scoresheet 12 times.
Now I know he's just 24 years old but doesn't that look like the makings of a one-hit wonder to you? It's a very Jonathan Cheechoo-esque story to me. Plus, he's been on the offensive juggernaut that is the San Jose Sharks. What would he do in a defensive-first system like the Predators?
BOTTOM LINE ON DEVIN SETOGUCHI: His cap hit is reasonable at $1.8 million but would the Preds really be upgrading? I think not.
PLAYER #5 – Tim Connolly (Buffalo Sabres)
Ahhh Tim Connolly. Tons of talent and rarely a healthy season. The last thing the Predators need is more injuries. Lombardi (concussion), O'Reilly (broken fibula), Marek Svatos (lower-body injury) and Jordin Tootoo (personal matters) are all currently on the shelf while Erat, Rinne, Legwand, Suter, Francis Bouillon and Steve Sullivan have all missed significant time with injuries this year.
Since the lockout, Connolly has suffered a laundry list of injuries that include, but not limited to: concussions, bone spurs in his hip, two cracked vertebrae, a broken rib, groin issues…. Do I need to go on? And all of those have happened in the past six seasons so, really, what we have here is a player who can't stay healthy for any length of time. Why would Poile want to bring in a guy who's consistently hurt when that's the exact reason he needs to be active at the deadline in the first place? With a $4.5 million cap hit, no less.
Additionally, in his 10-year NHL career, Connolly has only played in three playoffs. His 21 career playoff points in 30 games isn't bad but, again, are we sure he wouldn't suffer another injury before April?
BOTTOM LINE ON TIM CONNOLLY: If the Predators were healthy, it might be worth the gamble to get a top six forward talent like Connolly. But, since they're not, it's too much of a risk.
PLAYER #6 – Ales Hemsky (Edmonton Oilers)
The pro's: He's basically a point-per-game player, he's got a decent plus/minus on a terrible team, he's only 27-years old so he's just now entering his prime, he's got another year on his contract so he's not a rental and his cap hit is less than Erat's, Legwand's and Weber's.
The con's: He's more of a playmaker than a goal scorer, he missed almost all of last season with a shoulder injury and, even worse, missed almost all of December with a concussion.
The Pardubice, Czech Republic-native has been a teammate of Erat's several times in various international tournaments and even won a bronze medal with the Predator winger at the 2006 Winter Olympics. Perhaps the two of them could find some chemistry together wearing the same sweater once again.
Speculation aside, Hemsky would be a tremendous addition to the Predators offense. He's that "top six forward" Poile says he's looking for, he's an exciting player that can bring fans out of their seats, he shows up on the scoresheet more often than not and was one of Edmonton's top players in their Stanley Cup Final run in 2006. And, considering he hasn't seen the playoffs since then, one would think Hemsky is ithching to get back to the post season.
BOTTOM LINE ON ALES HEMSKY: With a $4.1 million cap hit and the fact that he has one more year left on his contract, if he's available, I can't see why David Poile and the Preds wouldn't pick him up. He's not worth mortgaging the future on (i.e. Ryan Ellis) but were the Oilers to want Jon Blum or Roman Josi, I think you have to pull the trigger.
PLAYER #7 – Dustin Penner (Edmonton Oilers)
While we're talking about Edmonton, let's just go ahead and address Penner. Penner has never had a season like Hemsky traditionally has. The closest he ever came to Hemsky-like numbers was his career-best 2009-10 season when he tallied 32 goals and 63 points. Other than last year, his career high was 47. Not exactly worth the $4.2 million cap hit, in my opinion.
Don't get me wrong, there are good things about Penner. He's only 28-years old so he's in the prime of his career, he's got good size for a winger (6'4″, 245 lbs), he's durable (he's only missed four games due to injury his entire career), he had his best season just last year and he's much more of a finisher and a goal scorer than Hemsky is. Penner would fill that "goal scoring winger" need pretty well as he averages 27 goals per season and has only scored under 20 once (17 in 78 games in 2008-09).
BOTTOM LINE ON DUSTIN PENNER: While he wouldn't be my favorite bang-for-the-buck option, Penner might just fit in well in Music City. As long as the price is right, I think he'd be a welcome addition.
PLAYER #8 – Niclas Bergfors (Atlanta Thrashers)
I've written about Bergfors coming to Nashville before. Back in November, there were all kinds of rumors that the Thrashers were shopping the dynamic young Swede. A little early for "trade deadline rumors" to surface which raised a red flag regarding his work ethic and attitude. What did Atlanta bench boss Craig Ramsay see in Bergfors that made him expendable?
Before we get to that though, let's talk about what makes Bergfors attractive to the Predators. Number one, he's a goal scorer. He scored 21 goals while splitting time between two offensively-challenged clubs in New Jersey and Atlanta last season. Number two, his cap hit is only $900,000. Even if they trade for him and find out three games in that he's not going to work out, no harm no foul. Number three, he won't be an unrestricted free agent on July 1. If he does work out, the Preds could keep him for at least one more year at a bargain price thanks to his RFA status. Number four, he's only 23 years old which means he could be a key component for the organization going forward. Again, if he works out. And, finally at number five, according to USA Today's Kevin Allen, the Thrashers aren't expecting a player back when they deal Bergfors. All Poile would have to do is part with a draft pick (maybe New Jersey's second rounder?) in order to kick the tires.
Now for the negatives. He's not exactly a two-way player. He's never registered a positive plus/minus rating in his short career and he's currently a minus-7 player on a team that boasts 13 plus- or even- rated players. Also, he was involved in the Kovalchuk deal which could mean one of two things. 1) New Jersey was willing to throw him into a deal to make it work or 2) Atlanta really wanted him included and now wants to get rid of him. Neither of those are good.
BOTTOM LINE ON NICLAS BERGFORS: A lot of question marks surround Bergfors but the low price tag, the minimal cap hit and the RFA status give Poile and the Preds a lot of options.
PLAYER #9 – Kristian Huselius (Columbus Blue Jackets)
Huselius is 32 years old, he was a healthy scratch on a pretty bad Blue Jackets team earlier this year, he'd become the highest paid player (cap hit) on the team and he's got the second worse plus/minus rating on Columbus. On top of all that, he's got one more year on his contract so he wouldn't even be a rental which, of course, means the Blue Jackets would want something significant in return. After all, they could not trade him and use his services through next season.
And I haven't even brought up the whole you-never-trade-within-your-own-division argument.
BOTTOM LINE ON KRISTIAN HUSELIUS: The guy can score goals, that's for sure, but for what it would cost and for the cap hit, there's just no way this is smart.
PLAYER #10 – Clarke MacArthur (Toronto Maple Leafs)
At first blush, I wasn't impressed with this possibility. MacArthur was very much an average player until he signed a one-year, $1.1 million deal with Toronto this past summer. All he's done in a Leafs sweater so far is bag 44 points to lead his team in scoring, rattle off a career high in assists (27) and tie his career high for goals (17).
But is this a one-hit wonder in the making? I'm not so sure. He's not exactly skating with the Sedin twins. He's on Toronto! And, at 25, he's about to enter the prime of his career and these numbers could suggest that's happening right in front of our eyes. If so, the Predators would be doing themselves a service by bringing in a guy like MacArthur who should be able to help a struggling Nashville offense score some goals. And, with his RFA status this summer, if he succeeds in Music City, he could be given a qualifying offer to stay. If he falls flat on his face, Poile and the Preds could release his rights.
BOTTOM LINE ON CLARKE MacARTHUR: Leafs GM Brian Burke is going to drive a hard bargain. Always. So you have to assume, for the Preds to get Toronto's leading scorer, it's going to take a lot. Probably too much.
—
PHOTO CREDIT: The Tennessean (used with permission)