Another rookie goalie takes down Preds…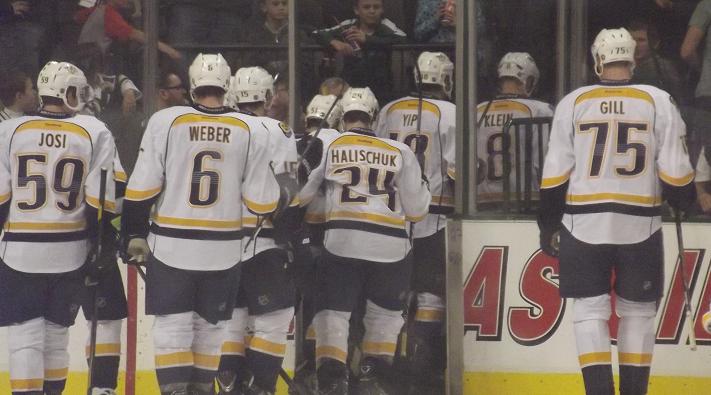 For the second straight game, the Nashville Predators faced a young, inexperienced goalie. On Saturday, Anaheim's Viktor Fasth earned a shootout win in his NHL debut. On Monday, it was Chad Johnson's turn. A veteran of just six NHL games coming into the night (all with the New York Rangers), he made his Phoenix Coyotes debut by posting a 21-save shutout.
In front of 8,581 at Jobing.com Arena, the Coyotes capitalized on their chances while the Predators couldn't capitalize on theirs. Phoenix would blank Nashville 4-0.
While the final score may not suggest it, Pekka Rinne was outstanding. He kept Nashville in it until the waning moments. His 21 saves weren't enough though as his team couldn't give him any offensive support.
Antoine Vermette got the party started in Glendale. Just 3:00 into the contest, defenseman Keith Yandle carried over the blueline and got a pass to winger Nick Johnson in the high slot. Johnson tipped the pass to a streaking Vermette who wristed a laser past Rinne for the 1-0 lead.
That's how things would remain until Lauri Korpikoski collected a rebound and slammed it past Rinne late in the second period. Nashville defenseman Ryan Ellis tried to clear the puck from in front of his own net but it was cleared right into Boyd Gordon. The rebound — complete with wrapping paper and a big red bow — came to Korpikoski who made no mistake, extending the Coyotes lead.
With less than 9:00 left in the tilt, Phoenix would use a 4-on-2 odd-man rush to extend their lead and, really, put the game out of reach. During a scoring chance in the Coyotes' end, Roman Josi decided to pinch in order to give the puck carrier, David Legwand, another option. The cross-ice pass was blocked out to center and Phoenix broke the other way with Johnson eventually bagging the goal, making it 3-0.
The final nail in Nashville's coffin came on the power play. Yandle took a shot from the point and the puck deflected off of Paul Gaustad's stick, fooling Rinne and finding the back of the net.
The Predators have scored just two goals in their last three games. And, unfortunately, the road won't get any easier. The defending Stanley Cup Champion Los Angeles Kings are next on the docket for Nashville. After that? The undefeated San Jose Sharks on Saturday and then the 5-1-0 St. Louis Blues again next Tuesday.
Perhaps, if Los Angeles doesn't use a rookie netminder, the Preds will have a chance.
Puck drops at 9:30pm Central on Thursday night.
—
PHOTO CREDIT: Melissa Grissom (used with permission)