Another shootout, another loss for Nashville…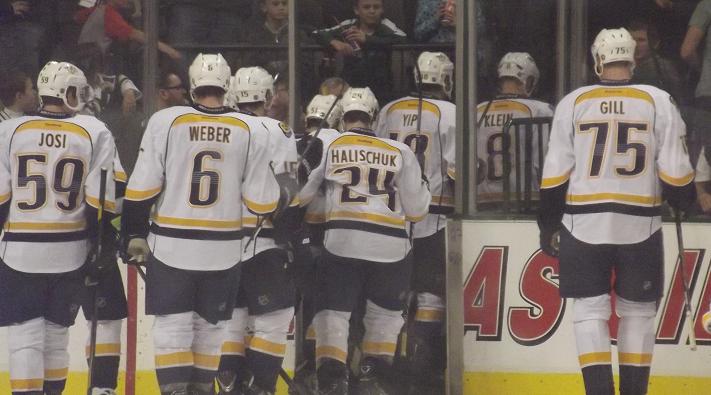 Both teams were coming off embarrassing losses. The Anaheim Ducks got blasted by the Vancouver Canucks, 5-0, on Friday night and the Nashville Predators looked like a minor league squad against the St. Louis Blues, losing 3-0, on Thursday. Something had to give.
In front of 17,174 at Honda Center, the Ducks used the shootout to down the Preds, 3-2.
Nashville went to a shootout in their first two games of the season, losing both as well.
Pekka Rinne was outstanding, making 20 saves and giving the Predators a chance to win. With the shootout loss, however, he fell to 0-1-3 on the year.
In his NHL debut, Viktor Fasth tended the nets for the Ducks, turning aside 19 Predators shots for his first career NHL victory.
The Preds wasted no time as their fourth line got things going. Just 1:52 into the contest, Brandon Yip stole the puck in the neutral zone, carried over the blueline, avoided a sliding Cam Fowler, gathered his own rebound and then buried it for the 1-0 lead.
In the middle frame, Anaheim sniper Corey Perry had a couple prime opportunities but Rinne was equal to the task each time. It would be Bobby Ryan who would finally break through for the Ducks. Fowler fired a shot toward the net from the point with Ryan getting a stick on it. The puck found the back of the net, tying the score at 1-1 headed into the locker room for the second intermission.
David Legwand would re-take the lead for the Predators in the third period. After corralling a Kevin Klein rebound in the high slot, Legwand stick handled around a fallen Duck defender and potted his second of the year.
Anaheim would answer just 1:03 later, however. Daniel Winnik fought off Hal Gill's check while crashing the net. With his stick on the ice, he deflected a perfect Perry pass over Rinne's left pad and into the net.
After an exciting yet scoreless overtime session, the two teams went to a shootout. Perry scored in the second round for the Ducks and Legwand wouldn't get the equalizer, giving Anaheim the victory.
The good news for the Predators is that they, once again, managed to secure a point in the standings. Another positive they can take from this contest was that they looked like themselves again. Their 13-shot performance against the Blues on Thursday night was horrible and this game, thankfully, showed that that was just an anomaly.
Nashville will have a day off on Sunday in order to get ready for the Phoenix Coyotes on Monday. Puck drops at 8:00pm Central and you can catch all the action on 102.5 The Game and FS-Tennessee.
—
PHOTO CREDIT: Melissa Grissom (used with permission)