Bernier continues to have the Preds' number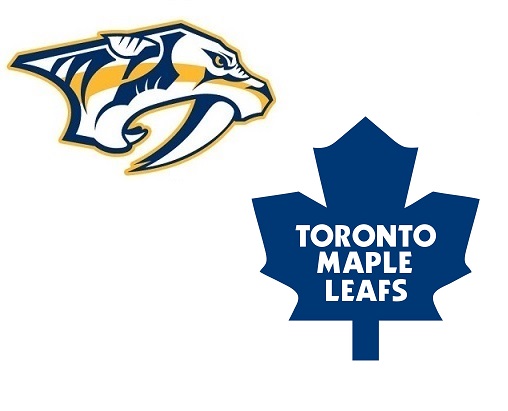 The Nashville Predators hosted the Toronto Maple Leafs for just the fifth time in their history on Thursday. They also hosted goaltender Jonathan Bernier for the fourth time and, for the fourth time, he beat them.
In front of 16,671 at Bridgestone Arena, the Leafs came away with a 4-0 victory. The score doesn't suggest it but Pekka Rinne was outstanding. He collected 22 saves, a lot of which were of the difficult variety but his team couldn't give him any support at the other end thanks, in large part, to Bernier.
"I feel pretty good playing against that team," Bernier said about his success against Nashville. "It's also a matter of luck a little bit."
The longer he plays well against the Predators, the more luck goes out the window. On Bridgestone Arena ice, Bernier has logged 240 minutes in his career. In those 240 minutes, he's faced 132 shots and saved 129 of them. So, last season, when the Los Angeles Kings were in town and elected to go with reigning Conn Smythe Trophy winner Jonathan Quick instead of Bernier, it was a head scratcher. Quick allowed three goals on just 14 shots and lost the game, 3-0. The Kings had gone with their other goalie and it came back to bite them.
Bernier just seems to have the Predators' number.
"I think it is a stats thing but some players just feel good against a team and they just have that mojo," Nashville Head Coach Barry Trotz said. "So there's probably something to that, no question. You plow through it by getting a lot of pucks [at the net], taking his eyes away and getting traffic."
After both goalies went perfect in the first period, Toronto drew first blood midway through the second. Phil Kessel scored his second goal of the young season when, off a face-off, he found himself all alone in front of Rinne. James van Riemsdyk collected the Predators face-off win in the corner and whipped it out to Kessel in front of the net. The four-time 30-goal scorer wasted no time getting his shot off, putting it past Rinne to give his team the 1-0 lead.
Later in the middle frame, the two Leafs forwards connected again, this time switching places. Kessel streaked down the boards and took a shot that hit the side of the net. van Riemsdyk came rushing in while Rinne tried to cover near the trapezoid. The puck came loose and the Maple Leaf winger collected it, wrapped around the net and put it behind a scrambling Rinne to make it 2-0.
Toronto would add two more goals after Mike Fisher was assessed a major penalty and a game-misconduct late in the contest but the damage was already done.
"The real killer was the second goal," Trotz said. "With nine seconds to go, they score. If we get through that period 1-0, I think we probably get a point."
With just under 11:00 remaining in regulation, Rinne made a couple of unbelievable saves to keep his team in the game. Kessel fed van Riemsdyk on a two-on-one but the Preds netminder slid across to get a glove on it. He even got his blocker on the rebound, keeping the game within reach.
"Pekka's playing pretty well," Trotz said. "We need to score some goals, no question. I like a lot of the things that we're doing but we're not getting the production."
"We had our chances, we just couldn't bear down," defenseman Kevin Klein said. "We needed a little more traffic. Most of the shots we got were outside and he just absorbed them into his chest. When you shoot for rebounds, it's tough when you shoot and he gobbles everything up."
Bernier is now 8-1 all-time against the Predators. Thursday was his second shutout in four visits to Music City.
"He played well tonight," Klein said. "You can't take that away from him. We had our opportunities but they get two goals in the second and, the next thing you know, we're behind the eight ball. When we get those opportunities, we've got to put those in."
Nashville certainly did have their chances. They had 36 shots on goal, they dominated in the face-off dot, had two power plays in particular that generated tons of pressure and had prime scoring chances by Klein, Fisher, Colin Wilson and Seth Jones.
"Overall, we played pretty decent but bottom line is we didn't win a hockey game," Trotz said. "We've got a five-game home stand, we've got to pick some points up here because, in November, we're gone for 17 straight days."
Hopefully free agent acquisition Viktor Stalberg can boost the offense. He's missed the first four games with an injury he sustained during the pre-season but he's expected to make his debut in gold Saturday against the New York Islanders.
Puck drops at 7:00pm Central.
***
MY THREE STARS (as voted on with 5:13 remaining in regulation):
1. Jonathan Bernier (TOR)
2. Phil Kessel (TOR)
3. James van Riemsdyk (TOR)
THE THREE STARS OF THE GAME:
1. Jonathan Bernier (TOR)
2. James van Riemsdyk (TOR)
3. Phil Kessel (TOR)