Roman Josi has a concussion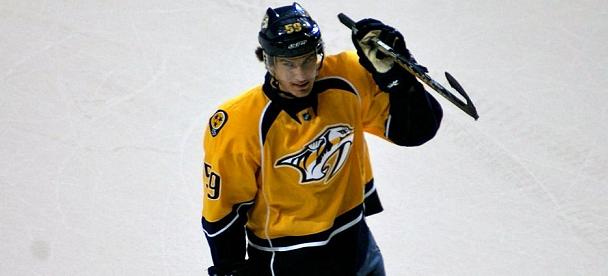 Per Robby Stanley of Smashville 24/7, Nashville Predators defenseman Roman Josi has a concussion. According to TSN, he has had two before.
Josi was blasted by Colorado Avalanche forward Steve Downie on Friday night. He left the game with an upper-body injury and did not return. Video of the hit is below.
The league reviewed the hit and determined on Saturday that there was no reason to serve Downie with disciplinary action.
This puts the blueline in serious question. Shea Weber and Kevin Klein were the only two Nashville defensemen with over 100 games of NHL experience headed into the season. With Josi out, that leaves a defense corps of Weber (530 NHL games), Klein (358), Ryan Ellis (64), Victor Bartley (26), Mattias Ekholm (5) and Seth Jones (2). They still have six guys to fill out the three pairings so they're not short-handed, per se, but that's a lot of green on the back end. Will this force Nashville to bring in a veteran? Are Joe Piskula's 10 NHL games enough to warrant a call up from Milwaukee?
No timetable for Josi's return was given.
We'll have an expanded look at the youth of the Predators defense a little later in the day.
—
PHOTO CREDIT: Sarah Fuqua (used with permission)