Blue Jackets use four third period goals to unseat Preds…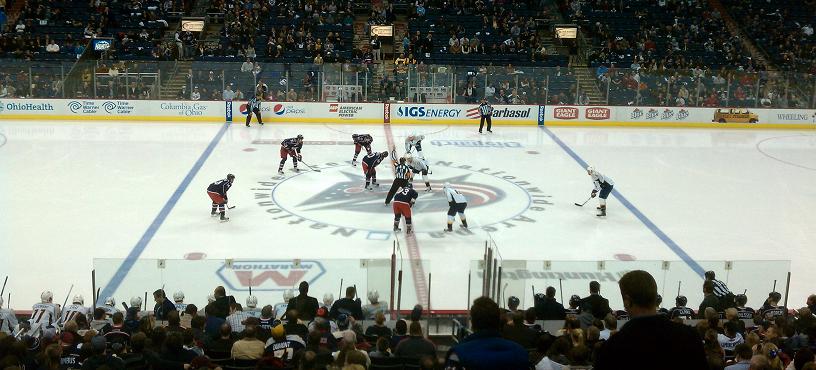 Cody Franson was on the losing end in his. Colin Wilson was as well. Matter of fact, you have to go back December 15, 2009 to find a Nashville Predators skater who was a winner in his NHL debut. That man's name is Nick Spaling.
Unfortunately, Jonathan Blum will not be joining Spaling in that prestigious club.
In front of 12,457 at Nationwide Arena, the Nashville Predators got shutout by their division rival Columbus Blue Jackets, 4-0. Columbus goaltender and 2008-09 Calder Trophy winner Steve Mason saved all 20 Nashville shots, improving to 21-14-2 on the year.
Mason's counterpart Pekka Rinne turned aside 26 Columbus shots but allowed four goals for the first time since the embarrassing February 7 loss to the Edmonton Oilers.
In a night he'll never forget, Blum logged 16:02 of ice time, blocked two shots, had two hits and finished a minus-1.
Midway through the second period, the Columbus fans thought they were about to take a 1-0 lead when RJ Umberger broke in alone. After making a move, Rinne extended the right pad and kept the puck out, keeping the game scoreless.
The Blue Jackets would strike first eventually, however. Early in the third period, their lone superstar Rick Nash beat Preds defenseman Kevin Klein along (then off) the boards and drove straight to the net. He collected his own rebound and put it past Rinne to make it 1-0.
Moments later, when Shane O'Brien took a bad roughing call in his own zone, Matt Calvert scored on the ensuing power play. As Rinne came out to handle a dump-in, the puck took a strange bounce off the end boards where Calvert wrangled it and put in the empty net to make it 2-0.
Antoine Vermette made it 3-0 when he re-directed a Nash shot from the half-boards through Rinne's five-hole midway through the final frame. Despite it being full strength hockey, Vermette was untouched in front of Rinne.
In garbage time, Nash added another one to make it 4-0
The Preds will now turn their attention to the defending Stanley Cup Champion Chicago Blackhawks. They will face off against the Hawks on Thursday night at Bridgestone Arena. Due to the loss tonight, that tilt will be a big one as both teams are jostling for playoff position.
Or, actually, just to get into the playoffs at all.
Puck drops at 7:05pm.
LEFTOVER THOUGHTS:
* In an interesting twist of fate, Blum played his first NHL game in the building he was drafted in. The 2007 NHL Entry Draft was held at Nationwide Arena in Columbus.
* Predators forward Sergei Kostitsyn participated in the morning skate on Tuesday but was scratched.
* It took Nashville over 10 minutes to register their first shot on goal. Matter of fact, their first shot came on the power play with 8:11 left in the first.
* Nashville's first even strength shot of the game came 15:03 into the game.
* Backing up Rinne tonight was Mark Dekanich. Anders Lindback was sent down to Milwaukee to get some playing time.
* Coming into the night, the Blue Jackets were 18-6-2 when scoring first.
* Jordin Tootoo got in his first physical altercation since returning to the lineup. The Predators are 0-3-1 when Tootoo drops the gloves this season.
* This was Nashville's third consecutive loss in Columbus.
* Columbus had more goals in the third period than the Preds had shots. Nashville managed only three shots on goal in the final third of the game.
* The Preds are now just 3-16-7 when scoring less than three goals.
* Nashville has found the back of the net just 22 times this month. It took them just six games to get to that number in January.
THREE STARS OF THE GAME:
1) Rick Nash (CMB)
2) Steve Mason (CMB)
3) Antoine Vermette (CMB)
—
PHOTO CREDIT: Jennifer Jones// special to section303.com