Bobby Ryan being shopped? Paging David Poile…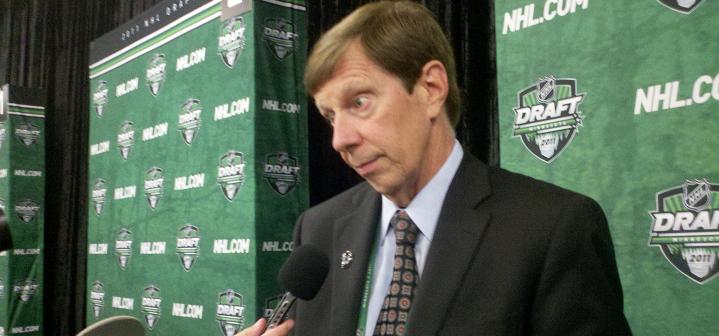 When it was first reported (by the Orange Country Register) that the Anaheim Ducks were "possibly shopping a top player," several Preds bloggers got into some friendly banter about what it would take to bring Bobby Ryan to Music City.
Then, tonight, when Rogers Sportsnet's Darren Millard tweeted that it was, in fact, Ryan who was being shopped, it started to put that friendly banter into perspective.
Along with Preds bloggers James Nelson of Preds Odd Man Rush, Ryan Porth of Smashville 24/7 and Seth Lake, a moderator at HF Boards and a contributor to On the Forecheck, some pretty interesting trade scenarios came up.
Their ideas and scenarios are linked at the bottom so, before you get to those, here was my proposal: Ryan Ellis, Colin Wilson, Teemu Laakso and a first round pick for Ryan. Let me explain why I think it's realistic and what each team would get out of the deal.
COLIN WILSON
WHY THE PREDS WOULD DO IT
Wilson has really turned it around. Long gone seem to be the days of Head Coach Barry Trotz's dog house and the continuous frustration that was readily apparent on both sides. His new found work ethic and determination really ups his value and, considering we're just months (not years) removed from his issues, General Manager David Poile may want to strike while the iron's hot. It won't be easy seeing a player with Wilson's potential go the other way but, when you look at what they're getting back, it becomes a little easier.
WHY THE DUCKS WOULD WANT HIM
The Ducks aren't in a full rebuild mode but they have to do something. Ryan is a tremendous bargaining chip that will command a hefty return. But losing Ryan takes goals out of the lineup. Enter Colin Wilson. Nashville's first round pick in 2008 could "replace" Ryan's offensive potential in Southern California. Is Wilson a 70-point guy? Probably not. But he could approach 60 while skating with talented, offensive-minded linemates. And, quite frankly, Anaheim has a lot of those.
RYAN ELLIS
WHY THE PREDS WOULD DO IT
Ellis has the makings of the next great two-way defenseman. He's the most decorated blueliner in Canadian Major Junior history and, in any other organization, he's probably in the NHL lineup right now. The Predators, however, have too much youth on the roster and are more in need of a veteran presence to bolster the blueline than they are another young, talented rearguard who can create chances with the best of them. Now, obviously, that's only this season. If Jack Hillen and Francis Bouillon depart come summer time, all of a sudden Ellis finds himself quarterbacking the second power play unit alongside veterans Jon Blum and (hopefully) Shea Weber and Ryan Suter.
WHY THE DUCKS WOULD WANT HIM
Anaheim needs help on defense right now. Ellis could provide that. Also, Ellis' defense partner in junior was Ducks sophomore blueliner Cam Fowler. They won back-to-back Memorial Cups together. Think of the chemistry they could recreate at the NHL level. It should have Ducks GM Bob Murray salivating. Could they be the next Weber-Suter?
TEEMU LAAKSO
WHY THE PREDS WOULD DO IT
Why wouldn't they? Nashville is deep in blueline talent. Laakso made the team out of camp but quickly proved he wasn't ready when it came to a full-time NHL roster spot. He found himself as a frequent healthy scratch and is now sitting out due to injury. Plain and simple, with the talent coming up through the system (yes, even without Ellis), Laakso is expendable.
WHY THE DUCKS WOULD WANT HIM
Ellis could play for Anaheim now but the "throw-in" of Laakso would give the Ducks some additional insurance in case the NHL learning curve is a little too tough for the former Windsor Spitfire captain. Laakso has played in a handful of NHL games already and he could be a bottom pairing guy in Anaheim, easily. Again, the Ducks would want him in the deal to act as more of an insurance policy.
1st ROUND PICK
WHY THE PREDS WOULD DO IT
Quite frankly? To sweeten the pot. Poile does not like to give up draft picks, plain and simple. Just ask him how painful it was to sit there this past June and watch the entire first round go by. But to get something you got to give up something. Bobby Ryan is a proven 30-goal scorer and has even eclipsed the 70-point plateau. A draft pick, no matter how high, is a risk until he proves otherwise. For every first round home run there's a first round bust (see: Martin Havlat vs. Brian Finley in 1999, for example). As a general manager, you always deal a "potential" for a "proven." This would be the perfect time to illustrate that.
WHY THE DUCKS WOULD WANT IT
Who doesn't want an extra first round pick? Okay, seriously, they would want a first rounder in the deal (or a second rounder, at worst) in order to further ensure fairness. Taking all the emotion out of it and, on paper, they'd be trading away a highly-gifted offensive player (Ryan) for a couple prospects (Ellis, Laakso) and a project (Wilson). The first round pick (mid-to-late choice) would give them an added bonus.
And now for what the Ducks would be giving up:
BOBBY RYAN
WHY THE PREDS WOULD WANT HIM
What is the one thing this team has needed since the beginning? A proven goal scorer. They had one in development until Alexander Radulov defected to his native Russia in 2008. That derailed the long term plans of the organization and they've been left searching ever since. It appeared as if that problem had been solved when they were one of the final two teams in the Phil Kessel sweepstakes in the summer of 2009 but eventually lost out to the Toronto Maple Leafs. All Kessel has done since leaving Boston is score 30 goals each year and is already halfway there this season (after only 24 games). What would the Predators be like with a goal scorer like that in their lineup? Ryan would give them the chance to find out. In his three full NHL seasons, he's scored 31, 35 and 34 goals, respectively. He's only 24 so he'd be part of the Preds core going forward (the "Big Four?") and he hasn't even entered his prime yet. Furthermore, he wouldn't be a rental player. According to capgeek.com, Ryan is locked up through 2015 at just $5.1 million a year. That's completely affordable for what he would bring to the table. Plus, wouldn't bringing in an offensive talent like Ryan motivate Weber and Suter to want to re-sign in Music City? There are some who believe that's the reason they haven't signed on long term just yet: the absence of a goal scorer.
WHY THE DUCKS WOULD DO IT
They need to move somebody. Trading Ryan would warrant a huge return. A return so large that Anaheim could address several needs. And, probably the best part for them, they can address those needs and still keep 2010-11 Rocket Richard and Hart Memorial Trophy winner Corey Perry and proven 80-point scorer Ryan Getzlaf in the fold. How many teams can say that? While they don't want to trade Ryan, he gives them a happy medium: a large return while keeping the nucleus in tact.
* To read Seth's trade scenario over at On the Forecheck, CLICK HERE.
* To read James' trade scenario over at Preds Odd Man Rush, CLICK HERE.
* To read Ryan's trade scenario over at Smashville 24/7, CLICK HERE.
—
PHOTO CREDIT: Jeremy K. Gover // section303.com