Brian McGrattan claimed from Anaheim, Stortini waived…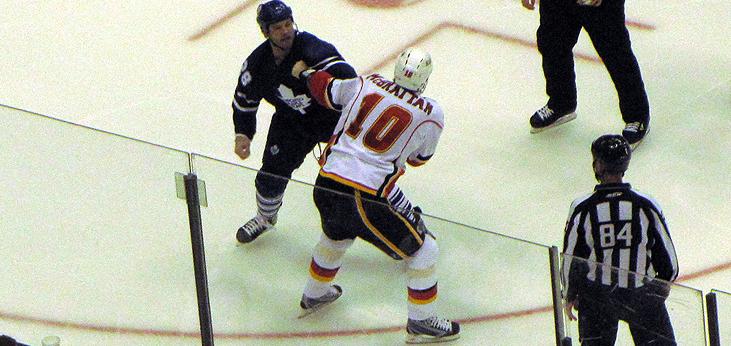 Journeyman tough guy Brian McGrattan has been claimed off waivers from the Anaheim Ducks while Zack Stortini has been placed on waivers in hopes of assigning him to the AHL-affiliate Milwaukee Admirals.
Stortini debuted as a Predator in St. Louis this past Saturday. He finished with no points, seven penalty minutes and a shot on goal.
McGrattan is a former fourth round pick of the Los Angeles Kings but his true claim to fame came in 2004-05 when he spent 551 minutes sitting in the penalty box for the Binghamton Senators, setting a new AHL record.
The official press release is below.
—
NASHVILLE PREDATORS CLAIM BRIAN MCGRATTAN  ON WAIVERS
NASHVILLE, Tenn. (October 11, 2011) – Nashville Predators President of Hockey Operations/General Manager David Poile announced today that the club claimed forward Brian McGrattan on waivers from the Anaheim Ducks. McGrattan is on a two-way contract worth $600,000 at the NHL level and $105,000 at the AHL level.
McGrattan, 30 (9/2/81), has suited up for 182 NHL contests with Ottawa, Phoenix and Calgary since the 2005-06 campaign, posting 14 points (3g-11a) and 395 penalty minutes. The 6-4, 235-pound native of Hamilton, Ont., split the 2010-11 season between Providence and Syracuse of the American Hockey League, notching 15 points (10g-5a) and 153 penalty minutes in 59 games.
McGrattan was selected 104th overall (fourth round) by the Los Angeles Kings in the 1999 NHL Entry Draft.
—
PHOTO CREDIT: Zebriana // Flickr (permission pending)