Call to Action: Support your newest Preds goalie with THIS…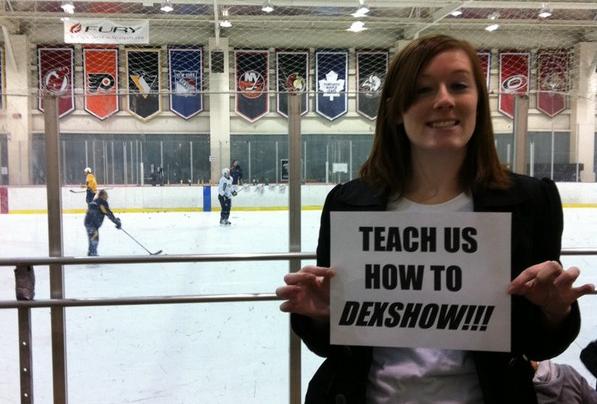 Graphic designer and founding member of the Hockey Tonk Angels group, Rachel Addison, has come up with yet another way to show the Nashville Predators support. This one, in Cell Block 303's favorite way.
A sign.
Mark Dekanich, the Milwaukee Admirals goaltender who's playing lights out hockey in the AHL this season, was recalled by the Preds this morning when Pekka Rinne was deemed out with injury for 2-4 weeks. While he was recalled before, it was only for emergencies. This tour of duty is the real deal and "Dex" should make his NHL debut at some point.
Download this PDF, print it out and take it to the game with you tomorrow night. We want to get as many of these on the glass for the pre-game skate as absolutely possible.
When Addison brought her rough draft to practice this morning, it got a reaction from Dekanich himself. He even tweeted about it later.
If you don't get the reference, Teach Me How to Dougie is a song by Cali Swag District that rocketed to fame after former University of Kentucky basketball player John Wall started dancing during introductions.
It's all about supporting the team. And this is just another creative way to do it. So please, download the sign, print it out, bring it to warm ups and let's welcome "Dex" to Nashville.
As a side note, the Predators Game Presentation Staff just might want to get that song in the rotation. Maybe.