Rinne to miss weeks; Lindback, Dekanich running things now…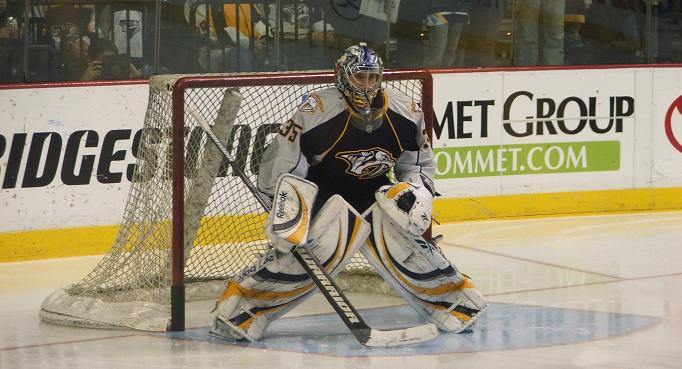 The Tennessean's Brian Mullen is reporting that goaltender Pekka Rinne will be out for 2-4 weeks with the knee injury. So, while it was hoped the injury would be minor, it appears as if Anders Lindback and Mark Dekanich will be running the show for, up to, the next month.
The @dexshow, if you will.
(Sorry, I had to.)
Rinne apparently suffered a knee injury in the 4-3 win over the Columbus Blue Jackets this past Wednesday night. As a result, the Preds have recalled Dekanich from the Milwaukee Admirals and the Admirals, in turn, have recalled former first round pick Chet Pickard from the East Coast Hockey League's Cincinnati Cyclones.
Pickard and Jeremy Smith will tend to the Admirals nets while Lindback and Dekanich will hold down the fort in Music City.
Since the injury news was so sudden, it was assumed that Lindback would get the start in tomorrow night's contest against the Carolina Hurricanes and then again in Atlanta on Monday night and Dekanich would just be an insurance policy. But with this recent turn of events, it appears Dekanich may just see his first NHL action after all.
Lindback has performed well beyond expectations when called upon this season. "Anders the Giant" is 3-1-1 when starting and has only allowed two goals total in the three games he entered on mop-up duty.
If Lindback continues to play at his high level, Dekanich will be relegated to the back-up role for his entire stay with Nashville. But that doesn't mean he won't start a few games. The most likely scenario is that "Dex" would start one game in a back-to-back set. There are only two back-to-back's in the month of December, the 17th and 18th in New Jersey and then at home against Los Angeles, respectively and then just before Christmas on the road against the Blackhawks and then at home against Ottawa. Again, if Lindback continues to play well, look for Dekanich to see action during those two sets.
And it's not out of the question he makes a statement while with the big club. Dekanich has been brilliant this season in the AHL. His record reads 10-3-3 with three shutouts, a ridiculous 1.71 goals-against average and an incredible .941 save percentage. Now, obviously, the American Hockey League is not the National Hockey League and he now has a clean slate, but, let's be honest, there's a ton of potential there. Especially in back-up duties.
All you can do, if  you're a goaltender, is give your team the best chance to win. Both Lindback (on the NHL level) and Dekanich (on the AHL level) have shown they can do that. That's all the Preds can ask for. It's up to the defensemen to play solid in front of them and it's up to the forwards to give their team enough offensive support to compete. If everyone does their job, Nashville can survive this. It won't be as easy as having Rinne back there to bail them out if they screw up, but they can survive this.
Seeing as how Lindback is now the starting goaltender, don't you want to support him? Well, now you can. You may have seen a handful of fans walking around with "Anders the Giant" t-shirts on. Just contact graphic designer Rachel Addison on Twitter and she'll hook you up. All standard sizes are available still and t-shirts are only $12. All proceeds will be donated to the Predators Foundation.
And, finally, we just want to tell Mark "Dex" Dekanich: welcome to the (Dex)Show.
(I'm telling you, there are some pun-ny headlines in the making here….)
—
MAIN PHOTO CREDIT: Jeremy K. Gover // section303.com