Canes beat Preds but who cares? Which players stood out?…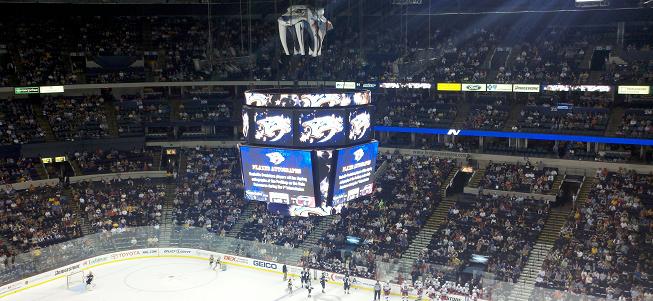 It was an audition of sorts for several players. Some performed well, others did not.
The Carolina Hurricanes beat the Nashville Predators 3-1 on Thursday night at Bridgestone Arena. JP Dumont had the lone goal – and point – for the Preds while Patrick O'Sullivan, Sergei Samsonov and Erik Cole tallied for the Hurricanes.
But, let's be real here. Nobody care about the score.
What fans care about is who stood out enough to challenge for a job in Nashville and who basically faded into Milwaukee oblivion.
On this night, while it was Brentwood-native Blake Geoffrion's homecoming, Ryan Ellis was the one who forced the coaching staff stand up and take notice.
The 20-year old 2009 first round pick made several solid plays that made him look like a two or three year NHL veteran. Early in the second period, Ellis made a nice move by a defender and then fired a backhand shot on net, narrowly missing out on his first NHL goal. Then, just moments after, he found himself as the lone man back on a Hurricane 2-on-1. Not only did he take away the pass, which every defenseman is instructed to do, but he went so far as to block the pass.
Even in the final minutes of the game he was noticeable. He found himself with a wide-open shot from the high slot. Instead of taking the slap shot though, Ellis elected to pass to a waiting Marcel Goc who was parked at the side of the crease. Goc had a slam-dunk waiting for him as Carolina goaltender Justin Peters had come out to challenge Ellis' would-be shot. When the puck got to him though, Goc got stick-checked and never got good wood.
"I think the play was there, it just didn't click," Ellis said. "I don't think he expected the pass. He might have been looking for the rebound so it was just unlucky. In my mind it was the right play, it just didn't happen."
On the offensive side of the puck, the best line of the night for the Predators was, by far, the Sergei Kostitsyn, Cal O'Reilly and Patric Hornqvist combination. They skated together almost the entire game and developed consistent scoring chances. And yes, it was as engaging a line as it sounds. Kostitsyn, an offensive minded winger skating with O'Reilly, a creative playmaking center. Oh yeah, and both are skating with Hornqvist, a guy who led the Predators in goals and points last season because he was willing to do the dirty work in front of the net.
Even seperately, Head Coach Barry Trotz praised the two wingers.
"I thought Kostitsyn had his best night," Trotz said. "And I thought Hornqvist was good after the first half of the game."
While Hornqvist could sit out every pre-season contest and still have a top line job waiting for him, O'Reilly and Kostitsyn are both battling for an NHL roster spot. Coach Trotz agreed that the line could develop some scary chemistry.
But he stressed the word "could."
"They could have it, yeah,"  Trotz said. "There's a playmaker, there's a guy who's got some good skills and there's a guy who'll go to the net. So it probably could work but, we'll see."
The second game of the Predators' pre-season is tomorrow night in Raleigh, North Carolina. There is no radio or (obviously) TV so follow @cellblock303 on Twitter. As soon as we know who will be tweeting game updates, we'll let you know.
GAME NOTES:
* Ellis was paired with Cody Franson.
* Goc, Hornqvist and Dumont all wore the "A" in tonight's contest and, in the final eight minutes of the game, became known as the "Alternate Line" on Media Row.
* Speaking of line nicknames, the combination of Kelsey Wilson, Nick Spaling and Andreas Thuresson became known as the "Milwaukee Line." All three guys are almost certainly going to start the season off in the AHL.
* Ryan Parent was average tonight but did make a dangerous pass in front of his own net that nearly resulted in a scoring chance for Carolina.
* Speaking of average, Jonathan Blum was barely noticeable tonight. But, then again, maybe that's a good thing.
* Jonas Andersson looked very solid tonight, but particularly on the penalty kill where he looked like he was already in mid-season form.
* Pekka Rinne played the first 31:31 of tonight's game and absolutely shined. At the very end of the first period he made a post-to-post diving save that you'll see on every Preds game video until you die. Absolutely incredible.
* Mark Dekanich came in for the final 28:29 of the contest (excluding the time the net was emptied) and played well. He'd probably want the goal he allowed back but, truth be told, he made a solid stop on the initial shot. The rebound just got away from him and Samsonov bagged what would end up being the game-winner. Dekanich finished with six saves on seven shots and was credited with the loss.
Tomorrow night's roster was just released. You'll see a few repeaters but, for the most part, it's a new roster.
| | | | | | | | | | |
| --- | --- | --- | --- | --- | --- | --- | --- | --- | --- |
| POS. | NO. | PLAYER | HT | WT | SH | Place of Birth | Birthdate | | 2009-10 Team |
| D | 2 | Aaron Johnson | 6-1 | 205 | L | Port Hawkesbury, N.S. | 4/30/83 | | Edmonton (NHL)/Calgary (NHL) |
| D | 7 | Jonathon Blum | 6-1 | 193 | R | Long Beach, Calif. | 1/30/89 | | Milwaukee (AHL) |
| D | 8 | Kevin Klein | 6-1 | 201 | R | Kitchener, Ont. | 12/13/84 | | Nashville (NHL) |
| RW | 10 | Martin Erat | 6-0 | 201 | L | Trebic, Czech Rep. | 8/29/81 | | Nashville (NHL) |
| C | 11 | David Legwand | 6-2 | 205 | L | Detroit, Mich. | 8/17/80 | | Nashville (NHL) |
| LW | 12 | Andreas Thuresson | 6-1 | 215 | R | Kristianstad, Sweden | 11/18/87 | | Milwaukee (AHL)/Nashville (NHL) |
| C | 13 | Nick Spaling | 6-1 | 196 | L | Palmerston, Ont. | 9/19/88 | | Milwaukee (AHL)/Nashville (NHL) |
| C | 16 | Cal O'Reilly | 6-0 | 188 | L | Toronto, Ont. | 9/30/86 | | Nashville (NHL)/Milwaukee (AHL) |
| D | 20 | Ryan Suter | 6-1 | 195 | L | Madison, Wis. | 1/21/85 | | Nashville (NHL) |
| C | 21 | Jamie Lundmark | 6-0 | 190 | R | Edmonton, Alta. | 1/16/81 | | Calgary (NHL)/Abbotsford (AHL)/Toronto (NHL) |
| RW | 22 | Jordin Tootoo | 5-9 | 199 | R | Churchill, Man. | 2/2/83 | | Nashville (NHL) |
| RW | 24 | Matt Halischuk | 6-0 | 186 | R | Toronto, Ont. | 6/1/88 | | New Jersey (NHL)/Lowell (AHL) |
| LW | 28 | Jonas Andersson | 6-3 | 210 | L | Stockholm, Sweden | 2/24/81 | | Dynamo Minsk (KHL) |
| RW | 29 | Joel Ward | 6-1 | 225 | R | Toronto, Ont. | 12/2/80 | | Nashville (NHL) |
| D | 32 | Teemu Laakso | 6-1 | 215 | R | Tuusula, Finland | 8/27/87 | | Milwaukee (AHL)/Nashville (NHL) |
| RW | 33 | Colin Wilson | 6-1 | 217 | L | Greenwich, Conn. | 10/20/89 | | Milwaukee (AHL)/Nashville (NHL) |
| RW | 45 | Ryan Flynn | 6-3 | 209 | R | St. Paul, Minn. | 3/22/88 | | U. of Minnesota (WCHA)/Milwaukee (AHL) |
| D | 51 | Francis Bouillon | 5-8 | 197 | L | New York, N.Y. | 10/17/75 | | Nashville (NHL) |
| | | | | | | | | | |
| NO. | | GOALTENDER | HT | WT | SH | Place of Birth | Birthdate | | 2009-10 Team |
| 31 | | Mark Dekanich | 6-2 | 190 | L | North Vancouver, B.C. | 5/10/86 | | Milwaukee (AHL)/Cincinnati (ECHL) |
| 39 | | Anders Lindback | 6-6 | 205 | L | Gavle, Sweden | 5/3/88 | | Timra (Sweden) |