Canucks finally dispose of Chicago; Preds to play Vancouver…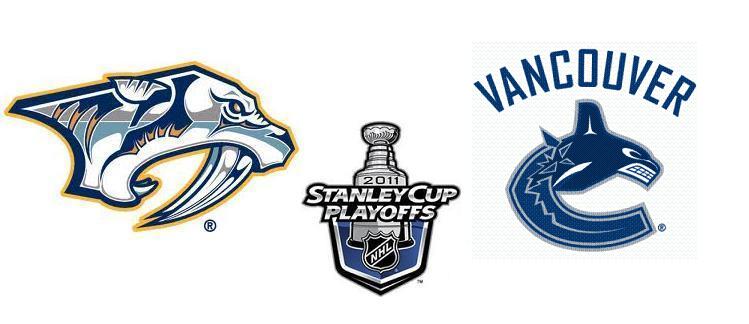 The Presidents Trophy is given to the regular season's best NHL team. Apparently it's also given to the team least likely to win the Stanley Cup as only one of the last seven Presidents Trophy winners have won Lord Stanley's chalice.
The Nashville Predators hope they can make it one of the last eight.
The 2010-11 Presidents Trophy winning Vancouver Canucks appeared to be making quick work of the defending Stanley Cup Champion Chicago Blackhawks as they went up 3-0 in the series. But then Game 4 happened. And then Game 5. And then Game 6. They finally got their act together tonight and disposed of the Hawks in overtime by the score of 2-1.
Had the Blackhawks beat the Canucks in Game 7, they would have become just the fourth NHL team ever to be down 3-0 in a series and comeback to win it. Only the 1942 Toronto Maple Leafs, 1975 New York Islanders and 2010 Phildelphia Flyers have done it before.
Nashville becomes the lowest seed to advance so they'll meet the highest advancing seed which, obviously, is the Western Conference Champion Canucks. That match-up leaves the #2-San Jose Sharks to play the #3-Detroit Red Wings.
The Canucks have had some serious issues in goal the last few games. Vezina candidate Roberto Luongo has a rumored undiscolsed injury which caused him to give up 10 goals on 30 shots in Games 4 and 5 combined. Matter of fact, Luongo played so poorly in those games, Head Coach Alain Vigneault opted to start rookie netminder Cory Schneider in Game 6. Schneider then went down with a lower-body injury early in the third period. Luongo had to relieve him and, low and behold, gave up the winning goal in overtime.
In short, who knows what's going on between the pipes in Vancouver.
So while they have a high powered offense (tops during the regular season with 262 goals), they've got serious questions in net and on the blueline (allowing 23 goals in the seven first round games). Add to that, they just got through an exhausting series that went the distance and it may be a perfect storm for the Predators to advance to the Western Conference Finals.
Buckle up Nashville. This one's going to be a ride.