Preds prospect Ellis named OHL Defenceman of the Year…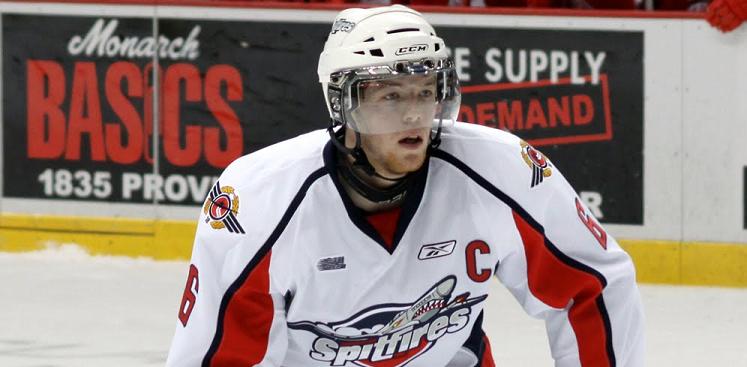 Yesterday, Nashville Predators captain Shea Weber was named a finalist for the Norris Trophy, the NHL's award for best defenseman. Today, Preds 2009 first round pick Ryan Ellis was named the OHL Defenceman of the Year.
No wonder the experts always say the Nashville organization is deep on the blueline.
We'll have more analysis in a little bit for, for now, the official press release from the Ontario Hockey League is below.
—
Spitfires' Ryan Ellis Named OHL Defenceman of the Year
Toronto, ON – The Ontario Hockey League today announced that for the second time in his career Ryan Ellis of the Windsor Spitfires is the recipient of the Max Kaminsky Trophy awarded to the OHL's Most Outstanding Defenceman of the Year.  
 
Ellis led all defencemen in scoring and finished tied for fourth overall in the OHL with 101 points in 58 games scoring 24 goals and 77 assists.  He became the first defenceman to score 100 points in a season since Jamie Rivers of the Sudbury Wolves recorded 121 points in his award-winning 1993-94 campaign.  A three-time finalist, Ellis won the award for the first time in his sophomore 2008-09 season and becomes just the third defenceman in OHL history to win the award twice following Denis Potvin (Ottawa 1972 and 73), and Bryan Berard (Detroit 1995 and 96).
 
"It's very exciting for me to win this award for the second time," said Ellis.  "I'd like to thank all those who voted for me and to be named the OHL's Top Defenceman with so many worthy candidates within our league is an honour and something that means a great deal to me personally."
 
Ellis, a 20-year-old from Freelton, ON, set career-high numbers in goals, assists, and points competing in his fourth season with the Spitfires.  With 314 points in 226 career games, Ellis became just the third defenceman in OHL history to record 300 career points and trails only Rick Corriveau who recorded 329 points in 260 games with London and Niagara Falls from 1987-92, and Denis Potvin who recorded 330 in 257 games with the Ottawa 67's from 1967-73 for career points by an OHL defenceman.  Ellis also ranks second all-time in Spitfires scoring behind Bill Bowler who produced 467 points in 250 career games. 
 
"I'm not sure where you start with Ryan, he's been a great ambassador for the Windsor Spitfires during his time with us and he's competed at every level and on the biggest stages, winning every championship imaginable in junior hockey," said Spitfires' Head Coach Bob Jones.  "He's led and represented our team exceptionally well, and in my opinion has been the top player in both the OHL and CHL this season.  What Ryan has done for our team and accomplished in the past four seasons is truly remarkable.  The Windsor Spitfires are very proud of what he's accomplished, and he is a very deserving winner of the OHL's Top Defenceman award this season."
 
A Nashville Predators prospect selected in the first round of the 2009 NHL Entry Draft, 11th overall, Ellis was named the OHL Defenceman of the Month three times (November, January, and February).  He was named Best Offensive Defenceman for the third straight year in the Western Conference Coaches Poll, and also finished first in voting in the Smartest Player and Hardest Shot categories.  Ellis recorded 30 multi-point games this season including a career-high six-point game with a goal and five assists as first star of a 7-1 win over the Kitchener Rangers on January 28. 
 
The Max Kaminsky Trophy is awarded each year to the Most Outstanding Defenceman as selected by OHL General Managers.  Teams were not permitted to vote for their own nominee.  Players received five points for a first place vote, three points for a second place vote and one point for a third place vote.
 
Ellis received an incredible 93 of a maximum 95 points in the voting process ahead of Ryan Murphy of the Kitchener Rangers who finished second with 47 points.  Dougie Hamilton of the Niagara IceDogs finished in third place with 15 points. 
 
Darryl Shannon is the only other member of the Spitfires to claim the award winning in 1987-88, with other notable winners including Al MacInnis (Kitchener 1982-83), Chris Pronger (Peterborough 1992-93), Brian Campbell (Ottawa 1998-99), James Wisniewski (Plymouth 2003-04), Marc Staal (Sudbury 2006-07), and Drew Doughty (Guelph 2007-08).  Jacob Muzzin of the Sault Ste. Marie Greyhounds won the award last season. 
 
The award is named in recognition of Max Kaminsky, who enjoyed a 10-year professional playing career that included four years in the NHL with Ottawa, Boston, and Montreal.  After he retired from playing, Kaminsky enjoyed a 15-year coaching career that was capped by winning the Memorial Cup with the St. Catherine's Teepees in 1960.
 
Ellis will be formally presented with the Max Kaminsky Trophy at the OHL Awards Ceremony which takes place on Wednesday June 8, 2011, at the Hockey Hall of Fame in Toronto.  He will also be the OHL's nominee for CHL Defenceman of the Year.
—
PHOTO CREDIT: Tim Cornett // windsorspitfires.com (used with permission)