COO Sean Henry issues Ice Bucket Challenge to Preds bloggers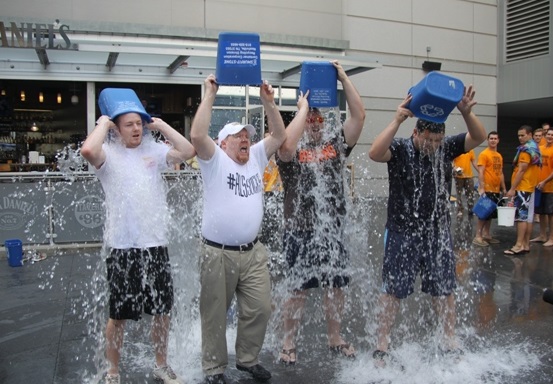 Pop icon Justin Timberlake has challenged Jimmy Fallon and The Roots. Green Bay Packers quarterback Aaron Rodgers has challenged country star Darius Rucker. Nashville Predators defenseman Seth Jones has even challenged former Portland Winterhawks teammates Brendan Leipsic, Ty Rattie and Derrick Pouliot.
Wednesday afternoon, Predators Chief Operating Officer and President Sean Henry got into the action.
As is customary in these now-viral Ice Bucket Challenges, before going through with the act himself, he issued a challenge of his own. He didn't chose players or coaches. Instead, he issued the challenge to four of the team's media members: Robby Stanley of Smashville 24/7, Kris Martel of The Predatorial, Justin Bradford of Penalty Box Radio and, of course, us at 303.
Typically, once challenged, a person has 24 hours to accept. They can either donate $100 to the ALS Association which helps fight Amyotrophic Lateral Sclerosis (or Lou Gehrig's Disease) or dump a bucket of ice water on their head. Either way, the campaign is great because it raises awareness for ALS.
The four bloggers got together and responded to Henry's challenge within moments.
We were thrilled to be asked to support such a worthy cause. Let's see if former Predator Jamie Allison, blogger Andrew Hirsch, Nashville prospect Magnus Hellberg and 102.5 The Game's Darren McFarland are up to the challenge. They have 24 hours to respond.
---
PHOTO CREDIT: Alexis Witman // Nashville Predators
VIDEO CREDIT: Nashville Predators Hockey Club