Poile talks about surplus of forwards, competition in camp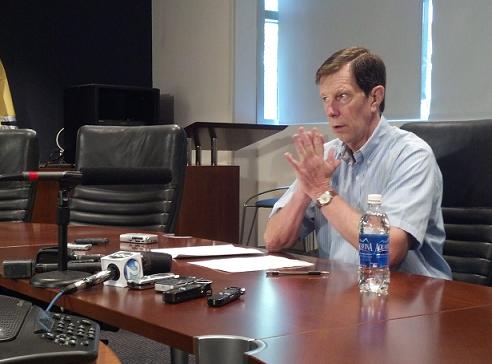 The Nashville Predators had to get better on offense. General Manager David Poile knew this and revamped his roster for the upcoming season in an effort to do so.
His first step was acquiring sniper James Neal from the Pittsburgh Penguins in June. He then signed versatile veteran Olli Jokinen. The team then announced top center Mike Fisher would be out until November (at least) and responded by inking free agent pivots Mike Ribeiro and Derek Roy.
The talent upgrade that Neal, Jokinen, Ribeiro and Roy bring is much needed. But what about the bottom six forwards and promising prospects in the system who've been paying their dues and waiting for their chance? The new guys can't just join the club. You have to make space somewhere.
"There's no question that we have more forwards than we'd normally have," Poile told us. "Hopefully we've added some quality in some of the signings and trades we've made but also some quantity to give us some competition, some depth and to allow the coaches some flexibility to try different things."
Everyone from Colin Wilson and Gabriel Bourque to Taylor Beck and Austin Watson are effected by the bevy of off-season moves.
"In a nutshell, it's just a clear signal to the players that we need to be better," Poile said. "I certainly feel better about our forwards today than I did last year at this time."
Nashville ranked 19th last season in offense and, quite frankly, that number is inflated a tad thanks to a strong 9-1-2 finish in which they found the back of the net 50 times in those 12 games. Three-time Norris Trophy finalist or not, Shea Weber — a defenseman – led the team in scoring and Viktor Stalberg, the big free agent signing last summer, couldn't even muster 20 points.
While Poile did ship both Patric Hornqvist and Nick Spaling to the Penguins in the Neal deal, he acquired three forwards after that, giving him two more forwards then he had before the summer started. As a result, if the current roster holds until mid-September, Nashville will have 16 NHL-caliber forwards in training camp. Admittedly, that number includes Swedish phenom Filip Forsberg but, even if they exclude him and treat Fisher as if he were healthy, they'd still have 16.
"I guess you could say it's a problem at the end of the day because you're only able to dress 12 forwards in a game and you're only able to keep 13 — or perhaps 14 — and something's going to have to give," Poile said. "But I think that's a pressure and challenge on me and it's a pressure and challenge on the players."
Beck, Watson and Forsberg have all had a cup of coffee at the NHL level and would normally get a strong look in training camp. With the sheer volume of veteran forwards, however, the guys who can be assigned to the Milwaukee Admirals without being exposed to waivers probably will be.
"We tell every player the same thing: 'we're going to keep approximately the best 13 forwards,' Poile said. "We tell them 'it's going to be based on what role you fit in, what role you can play and what contribution you can make to the winning effort here in Nashville.' If that means that the younger player gets sent back to Milwaukee, that's the way it has to be. If that means a veteran player has to be traded, put on waivers or sent to Milwaukee, then that's what's going to have to happen."
Miikka Salomaki led the Admirals in scoring last year and plays a similar style as Hornqvist. A style that will be sorely missing once the puck drops. Players of Hornqvist's ilk don't exactly grow on trees and the Preds have the rare opportunity to have someone in the system step right in and take his place. Does he get a legitimate look in camp?
And what about 2014 first round pick Kevin Fiala? Traditionally, the 11th overall pick is taken far enough down that he's destined to either return home or try his hand in junior. But some experts say he's so talented that he actually has an outside shot at making the team this year. What happens if he makes waves in camp and prove he belongs?
What happens if both do?
"What we've been doing and how we've been playing hasn't gotten us into the playoffs the past two years," Poile said. "There has to be some changes. And this is one of the ways we're going to try to change it."
Here's to hoping it works.
---
PHOTO CREDIT: Jeremy K. Gover // section303.com