Smith, Beck, Bourque impress in first rookie game…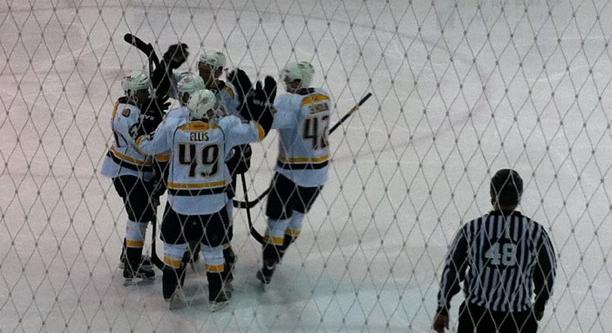 Of all the young Nashville Predators forwards currently in camp, the names Craig Smith, Taylor Beck and Gabriel Bourque probably come to mind.
There's a reason for that.
All three guys skated on a line together and all three ended up as stars of the game. Smith's night consisted of four goals and an assist while Beck and Bourque each tallied four points en route to the Preds rookie's 7-3 victory over the Tampa Bay Lightning rookies in Coral Springs, Florida.
2009 first round pick Ryan Ellis collected an assist while 2010 first round pick Austin Watson scored the seventh and final goal for Nashville.
Chet Pickard started the game for the Preds, giving way to Atte Engren in the second half of the contest. Pickard, who had such a rough year last year that he found himself with the Cincinnati Cyclones of the East Coast Hockey League, played admirably stopping 20 of 22 shots. Engren, who will play his first full season of hockey in North America in 2011-12, came just 32 seconds from blanking the Lightning during his time between the pipes. In the final minute, Tampa Bay propsect Alex Hutchings found the back of the net.
—
LEFTOVER THOUGHTS:
* Tampa had 22 shots on goal in the second period alone. Nashville's netminders stood tall though, allowing just a single goal.
* The Lightning used just one goalie in this game. Former Ferris State University Bulldog Pat Nagle saw 38 Predators shots, stopping 31.
* Milwaukee Admirals Head Coach Kirk Muller was reportedly behind the bench for Nashville.
* Smith's hat trick was of the natural variety, scoring back-to-back-to-back.
* Other than Smith, Beck, Bourque, Watson and Ellis, the only other Pred to find the scoresheet was their seventh round pick in 2011, Brent Andrews. He scored the sixth goal.
* Andrews and Watson's goals were unassisted.
* Charles-Olivier Roussel spent four minutes in the penalty box tonight. The first for tripping and the second for high-sticking.
* The Predators face the Florida Panthers rookies tomorrow afternoon.
—
SPECIAL THANKS to Twitter user @rinkside for live tweeting the game.
—
PHOTO CREDIT: @rinkside // Twitter