PRESS RELEASE: Preds shatter 2010-11 opening weekend ticket sales numbers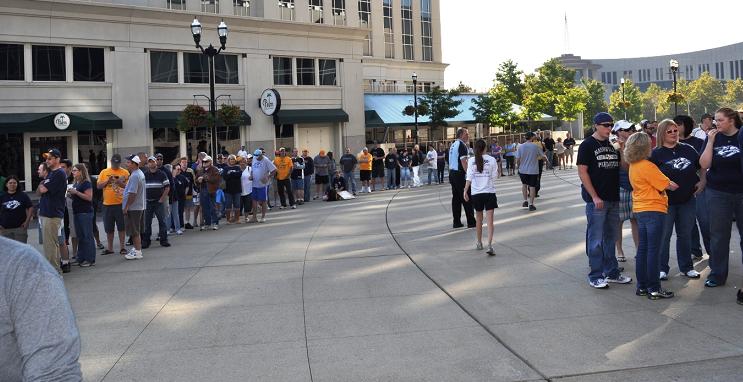 NASHVILLE PREDATORS ACTION-PACKED WEEKEND SEES MOST SUCCESSFUL TICKET ON-SALE IN FRANCHISE HISTORY 
-Weekend also highlighted by Nashville Predators/Brent Peterson Celebrity Golf Classic and first-ever Smashville Scavenger Hunt-

Nashville, Tenn. (September 12, 2011) – In anticipation of the upcoming 2011-12 season, the Nashville Predators enjoyed their most successful ticket on-sale event in franchise history this past Saturday. More than 800 people lined up at the Bridgestone Arena box office on Saturday morning to secure individual game tickets for the first half of the 2011-12 season. Predators' fans that waited in line were rewarded with a special box-office-only $10 ticket offer during a 9 a.m. early-bird special, with $10 tickets selling out for more than half of the games offered. The line continued to grow when individual tickets were made available to the general public at 10 a.m.  Total tickets sold on opening weekend approached 7,500 for the first half of the 2011-12 season, compared to a 1,500 ticket opening weekend in 2010-11.
While some fans waited in line to secure seats for games in 2011-12, others swarmed the Bridgestone Arena plaza to participate in the inaugural Smashville Text Scavenger Hunt. More than 100 teams and 330 people, many dressed in costume, took to the streets of Nashville in effort to win the grand prize: a pair of Nashville Predators season tickets. In the end, a team of comprised of Middle Tennessee residents Libby Funke, Tim Luff and Amanda Drewry walked away with the prized season tickets.
The Nashville Predators/Brent Peterson Celebrity Golf Classic and Petey's Preds Party were also tremendous successes over the weekend as both events sold out in advance – with Petey's Preds Party topping 940 attendees and the Golf Classic, which featured a morning and afternoon flight, reaching 290 participants. Highlights from the two events include country music superstar Carrie Underwood with the winning bid on a road trip with the team and the awarding of the inaugural Dr. Mac Memorial Cup to a golf team consisting of Dr. David Kemp, Dean Goolsby, James McCord, Nick Shelton and Nashville Predators defenseman Jon Blum. While totals are still being finalized, early estimates from the events have revenue approaching $300,000. Proceeds will benefit the Nashville Predators Foundation and the Peterson Foundation for Parkinson's.
The Predators kick off their pre-season schedule on Monday, Sept. 19 at Florida, then take on the Washington Capitals on Sept. 20 and Carolina Hurricanes on Sept. 23 before returning home on Saturday, Sept. 24 to host the Winnipeg Jets. The club's annual PredsFest game will be the preseason finale on Oct. 1 vs. the Hurricanes. Season tickets for the 2011-12 Nashville Predators season in Smashville are on sale now and start at just $19 per game. Great interest-free payment plans are currently available for Full Season, Half Season and Flex 12 packages. For information on all our season ticket packages, visit nashvillepredators.com/seasonticket or contact a ticket representative at 615-770-7800.
—
PHOTO CREDIT: Nashville Predators