Craig Smith trying to force Nashville to adopt a Wisconsin tradition…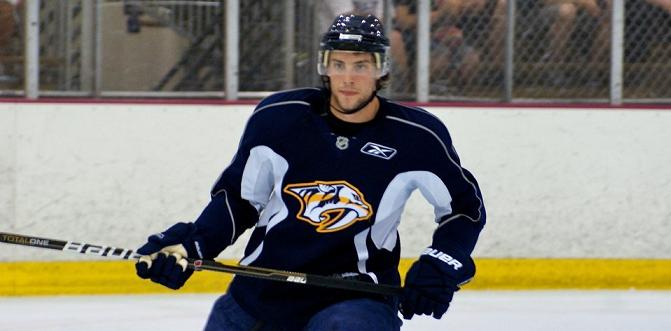 Nashville Predators rookie Craig Smith has already had some success at the NHL level. In his first game he scored the go-ahead goal late in the second period to propel his team to a 3-2 victory and then, in his second tilt, he registered another goal.
But there's something curious about his finding the score sheet.
In Columbus, Ohio, the Blue Jackets Game Ops crew used a TV timeout to play House of Pain's Jump Around. Eight minutes later, Smith bagged his first career goal.
The very next night in St. Louis, the Predators heard the song again during the second period and wouldn't you know it, the 22-year old Madison, Wisconsin native scored on his next shift.
To understand why the two events may be more than just coincidence you must first know about Smith's alma mater, the University of Wisconsin. The Badgers use Jump Around  to get fans (and players) pumped up during every sporting event.
Apparently the 22-year old rookie didn't leave that energy back in college.
"I'm not dead out there," Smith joked. "I hear what's going on (in the arena) and it is pretty neat when I hear that as it does remind me of Wisco."
Smith's Saturday night wouldn't end with a goal as he assisted on the next two Predators scores, giving him four points in two games.
"Right now I'm just trying to play my game," Smith said about his offensive production. "One of my biggest roles is to get myself and others in areas where they can score. As long as our line is producing some opportunities, we're going to score."
The two events aren't just limited to the regular season, however. When asked about this past weekend and the song, Smith recalled a personal moment he had the same night he would end up being the hero.
"On the night of my game-winner, in the last game of the pre-season, I pulled in to Jump Around as I shut my car off."
If you're keeping track at home — and we certainly are — Smith has now scored in three straight games after hearing the famous House of Pain track. Which raises the question, will Nashville Game Ops play the song during home games on purpose? And, if so, will they strategically place the song when the Preds need a boost or will they wait until Smith scores? Additionally, do they play it when other Wisconsin alums Blake Geoffrion and Ryan Suter bag a goal or do they keep it exclusively for Smith?
Guess we'll find out Thursday night.
"It is a pretty weird coincidence. Maybe they should try playing it here (in Nashville)."
Our thoughts exactly, Craig. Our thoughts exactly.
—
PHOTO CREDIT: Sarah Fuqua // special to section303.com (used with permission)