Datsyuk rips the hearts out of Preds fans, scores with six seconds left…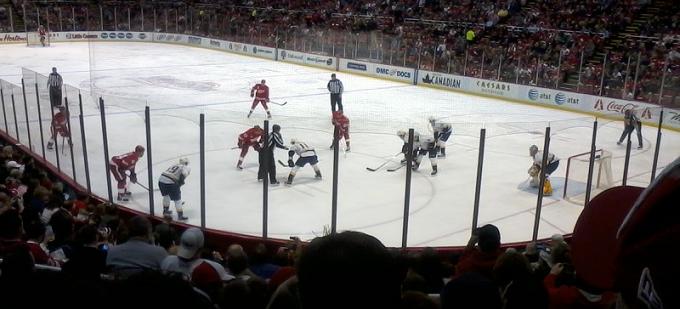 The Detroit Red Wings had won an NHL record 21 home games in a row.
Thanks to Pavel Datsyuk and his goal with less than 0:06 left, they can now make that 22 in a row.
Despite a tremendous pace in which they skated stride for stride with Detroit, the Nashville Predators couldn't convert on their numerous breakaways and left Motown without even a point to show for their efforts. The Red Wings beat the Preds 2-1 in front of 20,066 at Joe Louis Arena.
This may sound like a broken record but it must be said: Pekka Rinne was outstanding. 29 saves isn't an overly impressive number but, considering the quality of stops he made, you might as well give him 45 saves. He was even voted the second star of the game because of his stellar play.
Joey MacDonald, on the other end of the ice, was equally amazing, shutting the door on all four Nashville breakaways and making 20 saves total.
In the first period, the record holders drew first blood. Datsyuk lost an edge in the corner but still managed to pass the puck to Todd Bertuzzi. "Big Bert" then fed Johan Franzen in front of Rinne who lit the lamp to make it 1-0.
In the second, however, Nick Spaling answered. While breaking to the net, Spaling received a beautiful pass from Jordin Tootoo who was behind the Detroit net. Spaling one-timed it past McDonald to tie the score.
Coming into the night, the Predators were 14-0-1 when Spaling scores a goal.
Just when you thought overtime was upon us, the Red Wings won a draw in the Nashville zone and, even though the Preds cleared the zone, Henrik Zetterberg (who was originally reported to be out of the lineup tonight, by the way) spun and delivered a perfect pass to a breaking Datsyuk. The number one pick in the 2012 NHL All-Star Game Fantasy Draft dangled around and made fellow All-Star defenseman Ryan Suter look like an ECHL blueliner before firing a shot top left corner to win the game.
The disappointing finish was an amalgam of not finishing prime scoring chances, being the victim of an elite sniper and, quite frankly, playing as good as the opponent for 55:54.
Nashville will lick their wounds on the way to the Lone Star State where they'll take on the Dallas Stars on Sunday night.
Puck drops at 6:00pm Central.
—
PHOTO CREDIT:  Christine Ways // special to section303.com