Despite another shootout loss, Preds continue to get points…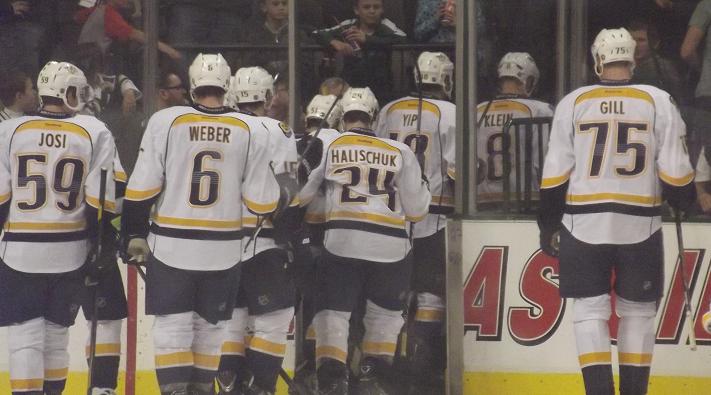 Anaheim's Viktor Fasth had beaten the Detroit Red Wings at Joe Louis Arena less than 24 hours prior to puck drop in Music City. Apparently that didn't matter much because the rookie netminder made 32 saves en route to his eighth straight victory.
In front of 17,332 at Bridgestone Arena, the Nashville Predators played one of their best games of the young season but couldn't beat the red hot Ducks and dropped this one, 3-2, in the shootout.
Pekka Rinne made 20 saves and fell to 6-3-4 on the year. His .936 save percentage and 1.63 goals-against average are still among the best in the league.
David Legwand would get Nashville on the board early but the Ducks would tie the game on a Matt Beleskey marker before the first period would expire.
Anaheim appeared poised to take the lead in the second when Rinne was whistled for playing the puck outside the trapezoid and then, seconds later, Hal Gill was sent to the box for a delay of game penalty of his own. The Ducks failed to score on the extended two-man advantage, however, and the Preds got some jump as a result.
"We went over it before the game," Paul Gaustad said about the Ducks strong power play. "Lane (Lambert) went over what they like to do and we just tried to eliminate the good shots."
Still riding the wave of momentum from the successful kill, Predators captain Shea Weber would register his first goal of the season to give his team the 2-1 lead. Coming into the night, he hadn't scored a regular season goal since scoring two against the Chicago Blackhawks on March 30, 2012.
"Hopefully that opens the flood gates," Head Coach Barry Trotz said about his captain. "I don't think it was critical that he scored today but when he scores one, they start to come."
Anaheim would answer before the intermission once again, this one courtesy of rookie Patrick Maroon. With friends and family in attendance, the St. Louis, Missouri, native would even the score by way of his first career NHL goal.
"(Kyle) Palmeri threw it in front of the net and I got a tip on it," Maroon said. "It was really emotional and it's great to get the first one out of the way.
"We were down 2-1 so we knew we had to get the puck in and create some energy. Obviously it was a good momentum change, tied the game and led to a victory so I'm pretty excited."
While it's disappointing that Nashville has lost five of their eight overtime games, they can take some bit of solace in the fact that they've gotten at least a point in each of the loses.
"Points are big for us," Gaustad said. "Not what we wanted — we wanted both points — but it's a process. We've quickly got to get over these things and go at it here the next couple days."
His coach agrees, even if they are only getting half the points possible in each contest.
"There are some more points that we'd like to have tacked on but we haven't (gotten them)," Trotz said. "But we've got points in 12 of 15 games now and there aren't many teams who can say that. Every night we're looking to get points and if we get one, it's one less than we want but I'd rather have one than nothing. And they'll all add up at the end of the year."
They're adding up now. Despite only having seven wins on the season, Nashville is second in the Central Division and fourth in the Western Conference. All because they're getting at least a point in their losses, something other teams can't necessarily claim.
One of those teams is Nashville's next opponent. Monday's slate includes a special afternoon tilt between the Preds and struggling Colorado Avalanche in Denver. Decimated with injuries, the Avs have won just five games this year and have been scored on 38 times. Nashville, by contrast, has given up just 28 goals, tied for least in the West.
The puck drops at 2:00pm Central and you can catch all the action on Fox Sports Tennessee or 102.5 The Game.
—
PHOTO CREDIT: Melissa Grissom (used with permission)