Fiala: "I think I'll go back to Sweden if I don't make the team"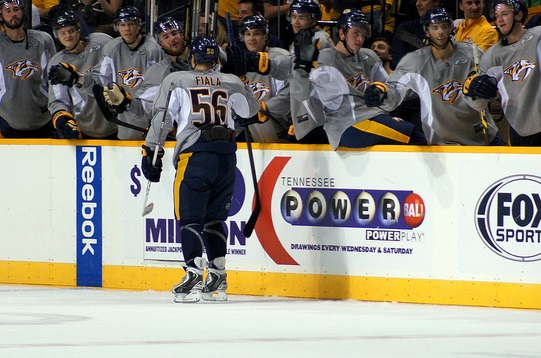 The Nashville Predators drafted dynamic Swiss forward Kevin Fiala at number 11 overall at the NHL Draft this past June. Typically, only the top few picks crack an opening night NHL roster right out the gate. Some experts, however, were starting to toy with that possibility for Fiala.
"I've heard some people say 'Kevin Fiala may be able to make your team this year,'" Poile told us at the draft. "That would be pretty special if he can do that."
A strong development camp got fans excited but, now that he's one of the best players (if not the best) on any of the four teams in the rookie tournament so far, fans are starting to think it could become a reality. But, with the sheer number of veteran forwards the Preds have headed into the season, the math doesn't add up. In short, two veterans would have to lose their jobs to make room for him and is Nashville willing to gamble that the 18-year old is, in fact, ready?
Which leaves two options. Fiala can either return to Sweden and play for the HV71 squad he played with last year or, because he's European, can join the AHL's Milwaukee Admirals, Nashville's top development team despite being just 18. There are pro's and con's to both. Staying in North America would allow him to experience the smaller North American ice and the more physical style of play. But, were he to go back to Sweden, he'd be able to work on his game in an environment that he's probably more comfortable in, thereby reducing the pressure to produce right now.
We asked Fiala straight up on Monday what he would do if he doesn't make the Predators club out of training camp.
"I think I'll go back to Sweden if I don't make the team," he said.
Obviously anything can change but that's obviously where he's leaning. And more power to him if he and the Predators feel like that's best for his development. After all, the Admirals will not be short on talent. Logic suggests that guys like Filip Forsberg, Colton Sissons, Miikka Salomaki and Austin Watson will all start in Milwaukee. Fiala wouldn't necessarily be buried on the "call-up chart" behind those guys but he wouldn't necessarily be ahead of them either.
And, again, it's not like the Predators have a shortage of veteran forwards.
---
PHOTO CREDIT: Sarah Fuqua (used with permission)