Preds use goal scoring and a huge penalty kill to beat Oilers…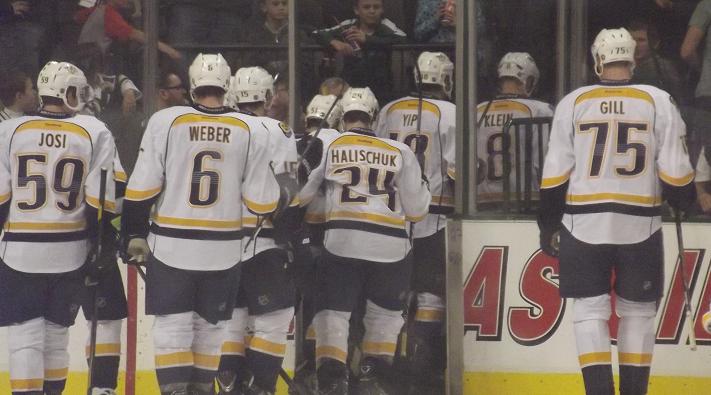 Three wins in a row. Something, just a week ago, you didn't think you'd say about the Nashville Predators until next season. But, thanks to a 3-2 win over the Edmonton Oilers on Monday night, you can say now.
In front of the 28th consecutive sellout crowd inside Bridgestone Arena, Pekka Rinne turned aside 24 Oilers shots en route to his 13th win of the year.
After a really soft call on Patric Hornqvist for interference, the Oilers struck first. Taylor Hall tipped a Corey Potter shot from the point past Rinne for the early 1-0 lead.
"They scored a lucky goal on the first power play," Martin Erat said. "They've got a lot talented kids out there who can move the puck around. We knew going into the game that they have a strong power play but they got only one."
Nashville would answer just moments later thanks to hard work behind the net by Erat. The two-time Czech Olympian was getting hooked from behind while going around the Edmonton cage but instead of giving up in preparation for a call he fought though it, getting the puck to Mike Fisher. Fisher then fed Sergei Kostitsyn in front and the much-maligned winger bagged his first goal since February 18.
Kostitsyn would strike again in the middle frame when he found the puck on his stick in the slot and out waited Dubnyk. He skated to his left and, once the netminder committed to the shot, he fed a gorgeous pass to a streaking Kevin Klein who made it 2-1. He was so far out of position, Dubnyk didn't even bother making an effort on Klein's shot.
Speaking of Kostitsyn, he had a rough go of it against this same Edmonton team a week and a half ago. He went for a line change and, in doing so, allowed an shorthanded odd-man rush the other way that resulted in a goal. That goal, for all intents and purposes, would cost the Preds the game and he was a healthy scratch two nights later against Columbus.
"Everybody knew what he did and he knew himself," Erat said about his linemate. "Since then he's worked hard. He's doing a lot of good, hard work for our line and that's what we need. He's doing what he has to do and he got rewarded today."
Later in the second, Chris Mueller scored a highlight reel goal to put the Preds up by two. Brandon Yip possessed the puck over the Edmonton blueline, drawing two defenders to him. Mueller saw the open space along the wall and broke wide, avoiding Mark Fistric who mistakenly let him skate in all alone while going for the big hit on Yip. Mueller picked his corner and buried his second goal of the season (and of his career).
The Oilers would add a Shawn Horcoff goal midway through the final stanza but it was too little too late. Nashville was about to do something they hadn't done since early February: achieve a three-game winning streak.
Aside from the goal scoring, a penalty kill was instrumental for Nashville on this night. Late in the first period defenseman Jon Blum was called for high sticking Ryan Smyth behind the Predators' net. But the kill was everything but routine. Edmonton managed to keep the puck in the Nashville zone for the first 1:50 of the 2:00 infraction, leading to four very tired Predators.
"Survival," Head Coach Barry Trotz said about what goes through a penalty killers' head. "When you're out that long, people don't realize the burn you have in your legs, the lactic acid that's building up and you feel like your legs are going to explode. You've got to battle through that, and the guys did. You're just out there surviving."
Erat was one of those survivors and was the fortunate soul who was finally able to clear the puck down ice.
"It was momentum for us," Erat said. "Guys appreciate the hard work and we came out of it stronger."
Nashville will now look ahead to Thursday when former Predator Steve Sullivan and the Phoenix Coyotes come to town. If everything goes as planned, that tilt will be Sullivan's 1,000th career NHL game.
The puck drops on the very special night at 7:00pm Central.
***
MY THREE STARS (as voted on with 6:00 remaining in regulation):
1) Sergei Kostitsyn (NSH)
2) Ales Hemsky (EDM)
3) Martin Erat (NSH)
THE THREE STARS OF THE GAME:
1) Martin Erat (NSH)
2) Sergei Kostitsyn (NSH)
3) Ales Hemsky (EDM)
—
PHOTO CREDIT: Melissa Grissom (used with permission)