Fisher returns from illness, dominates Canucks…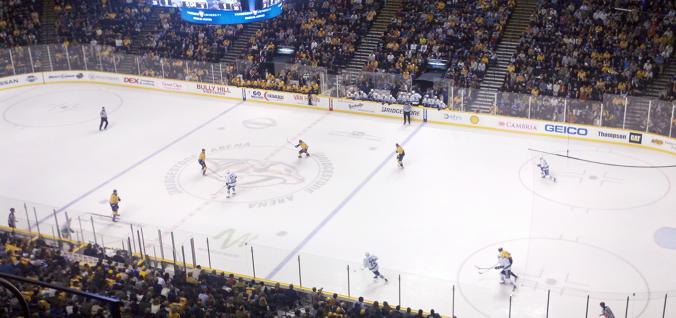 Sure the Nashville Predators wanted a win against the Vancouver Canucks tonight but what's the other thing they wanted? To avoid injury.
On a day where every Central Division team (sans one) announced an injury to a major player, the Preds were able to escape the game in one piece.
And with two points.
In front of 16,769 at Bridgestone Arena, the Predators served Vancouver their first regulation loss in 14 games with a 3-1 triumph.
Earlier in the day, the St. Louis Blues were the first to announce an injury when Jamie Langenbrunner was reported to have a broken foot and was out four weeks. Then the Detroit Red Wings declared Pavel Datsyuk out for a couple weeks with a knee injury. Then the Chicago Blackhawks followed suit with Jonathan Toews' upper-body injury that has him day-to-day. And, never to be outdone in the realm of bad news, the Columbus Blue Jackets put James Wisniewski on the shelf with a groin injury.
As for the Preds? They not only escaped injury on Tuesday but they actually got Mike Fisher back from an illness. All he did was figure into each Predator goal, lead the team in shots (six) and earn first star honors.
"I felt a lot better than I thought," Fisher said. "Obviously getting that goal kind of gives you a little bit of a boost too. After the first few (shifts) I knew I'd be fine."
Pekka Rinne was another star for Nashville, making 32 saves in the victory. He improved to 33-13-6 on the season, tying his career high in wins and taking the NHL lead in that category.
After a scoreless first, Fisher put the Predators up 1-0 in the second. Martin Erat bought some time in the far face-off dot, drew Canucks penalty killers to him and then sent Fisher a backdoor pass in which he put home for his team leading 18th goal of the season.
Minutes later, Nashville found themselves shorthanded but managed to score anyway. Fisher broke up ice 2-on-1 with Sergei Kostitsyn after a lunging clear by Hal Gill. Fisher made a perfect feed to Kostitsyn who one-timed it past Roberto Luongo for his first shorthanded goal since his famous one-handed tally on February 5, 2011 vs. Detroit.
Vancouver would take advantage of a defensive zone miscue before the period concluded, however. They would cut the Nashville lead in half on a Dale Weise goal. David Legwand fell while trying to clear from the corner. Weiss was able to collect the puck, make a move, and then fire it past Rinne.
The final nail in the coffin came late in the third when Erat backhanded a pass to a breaking Legwand. The franchise's first ever draft pick one-timed a floater over Luongo's glove hand to make it 3-1.
Fisher was the story, however. He was a game time decision and then became the game story.
"The last couple of days haven't been very fun for him," Head Coach Barry Trotz said. "He was going against the Sedin line head-to-head and I thought he played very strong against them. I thought he had good jump and good energy. I was really happy."
Nashville will try to continue their first win streak since the All-Star Break when their Central Divisional rival St. Louis Blues come to town on Thursday.
Puck drops at 7:00pm Central.
—
PHOTO CREDIT: Jeremy K. Gover // section303.com