From fill-in to full-time, Willy Daunic's amazing 9-month journey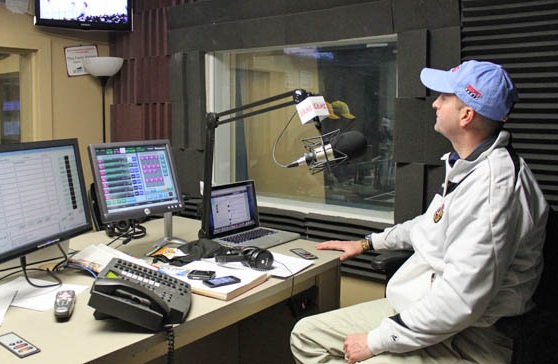 Nine months. That's all it took for Willy Daunic to go from the studio to the broadcast booth.
After five years calling Nashville Predators games, radio voice Tom Callahan suddenly stepped down in October of last year. This prompted pre- and post-game show host Daunic to take up radio play-by-play duties while the team found a replacement. Then, if that learning curve wasn't hard enough, on February 6, the voice of the Preds, Pete Weber, was hospitalized with a heart attack, thrusting Daunic into the TV role just hours before game time in St. Paul, Minnesota.
"It was definitely a whirlwind," Daunic told us via phone. "Coming into the season, I thought it would just be the same thing I've always done."
And he means always.
Daunic has been the familiar voice coming through your radio before games, during intermissions and after games since the team's inception. When Callahan stepped down just after the regular season began, however, that all changed. All of a sudden he went from keeping a few stats and jotting down a few notes in the studio to having to learn opposing players' jersey numbers and their tendencies.
"Doing hockey on radio is probably the toughest," Daunic, a fan of all sports, said. "If you can learn how to do hockey play-by-play, you can do anything."
Despite Daunic's great work in tough circumstances last season, there was a talented crop of play callers in the organization who some thought would be tabbed to fill the vacancy. Aaron Sims was considered by many to be the front runner. He's the voice of the Predators' AHL-affiliate, the Milwaukee Admirals, knows a lot of the players having been around most of the prospects for years and even filled in for Daunic after Weber suffered the heart attack. And then there was Nick Brunker of Nashville's ECHL-affiliate, the Cincinnati Cyclones. His youth coupled with his knowledge of the sport had some believing he was a contender as well.
But, in the end, it was Daunic's job to accept or decline.
"As [last] season went on, it became something that I wanted to do and it became something the Predators were interested in me doing," he said.
But it wasn't that easy. Daunic had a few things to consider before making everything official. The biggest one being his wife, Erin, and their children. After all, the job includes a lot of travel, sometimes for a weeks at a time. A stark contrast for kids who have grown up with daddy being home every night.
"That's probably the biggest sacrifice that you make, being away from your family," Daunic admitted.
The former St. Catharines Blue Jay first baseman is no stranger to play-by-play duties. He called Vanderbilt Commodores baseball games in the mid-90's, has been the TV voice of the TSSAA since 2002, various CSS broadcasts for about 10 years and even filled in for former Preds radio voice Eli Gold back in 2006-07 due to scheduling conflicts with the University of Alabama.
"That was one thing I always had in my back pocket," Daunic said of his six games eight years ago. "I knew that I had done it so I knew that I could do it. And the Predators had a taste of it so they knew I wasn't going to be completely embarrassing."
While hockey is hard enough — especially in a non-traditional market like Music City — calling a game on radio and calling a game on TV are completely different animals. Weber, a seasoned vet at both, broke it down to basics for us.
"Radio requires description while TV is more caption-oriented," he said.
Weber should know. Not only has he simulcast Predators games in the past, he's called hockey games for Notre Dame, the University of Buffalo, the Los Angeles Kings, the Rochester Americans and the Buffalo Sabres during his broadcast career.
"He has been working at it for awhile," Weber said. "He already had great familiarity with the team and I feel he was always aiming toward doing play-by-play so he was prepared for the opportunity which suddenly presented itself."
Nashville natives know Daunic well. He's practically in the city's DNA. He makes up 33.3% of the afternoon drive talk show Sports Night on the team's flagship station, 102.5 The Game. He's been in that role since September of 1993 and a part of the current triplet for over 10 years.
On the other hand, calling games is entirely different than talking about them.
"I came in wanting to be a play-by-play guy but the talk show was where the opportunity was," Daunic recalled of his broadcasting roots. "They're two different skill sets even though they're related but I wanted to be good enough at both so, wherever the opportunity took me, I'd be ready for it."
Last season was a bit of a struggle for Sports Night. Daunic found himself on the road most days while his counterparts George Plaster and Darren McFarland held down the fort inside the studio Monday through Friday. That can be easier to stomach when you know there's a light at the end of the tunnel. Accepting the full-time play-by-play gig, however, meant those struggles would continue.
"We were able to determine that last year," Daunic said. "Once we got into December and January, it was like 'Can you do the show and do the games? And can you do them the way they need to be done?' Because you don't want to shortchange one or the other."
So how's the balance going to work from this point on?
"The priority now goes with the Predators," he said.
Daunic is good at what he does. The Sports Night team has many accolades on its resume, including A.I.R. Awards and Toast of Music City nods. The biggest challenge for Daunic is growth in the play-by-play arena.
"I've thought about that a lot," he said. "The feedback I've gotten has been good but it's been more 'he's done a good job considering he was just thrown in there.' Now I want people to say 'He's a good hockey announcer.' I want people in that fraternity to think I'm good, not just because of the circumstances but because I'm good in general. That's what I'm looking to do."
He'll have a full 82 games (and then some) to achieve that goal. Who knows where the next nine months will take him.