Why the Preds could be a major player tomorrow…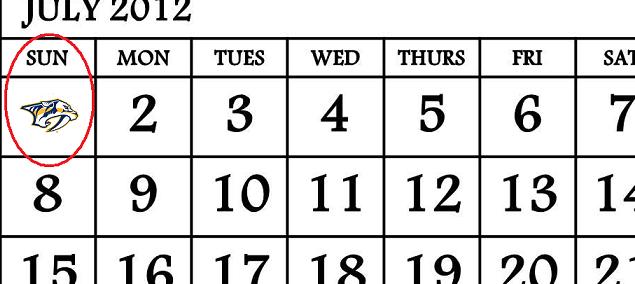 "Hopefully it will be a meaningful day to us and not to somebody else."
Those words were spoken by Nashville Predators General Manager David Poile back in May. He was referring to July 1 and the start of the free agency period in the National Hockey League.
The salary cap for next season is set at $70.2 million, with the floor being $54.2 million. According to capgeek.com, the Predators have 14 roster players under contract at $34.9 million, the lowest in the league. That's $19.3 million that Nashville must spend in order to get to the cap floor. Furthermore, a common theme among Poile, Head Coach Barry Trotz and Predators Chairman Tom Cigarran over the past 11 months has been that Nashville will be a cap team next year. So while the Preds may have to spend $19.3 million more at the very least, it appears as if they're prepared to go so far as doubling their current payroll.
With that in mind, let's take a look at Nashville's options.
Below is an alphabetical list of roster players signed for the 2012-13 season. Nine forwards, four defensemen and a goaltender make up the 14 that are under contract. That leaves the Predators needing two defensemen (we have two specific ones in mind), three forwards and a back-up goaltender in order to fill a line-up card come October. It's important to note that players in the system who could be poised to make the jump (Chris Mueller, Michael Latta and Vic Bartley) are not listed here.
| | |
| --- | --- |
| Gabriel Bourque | $618,333 |
| Ryan Ellis | $1,440,000 |
| Martin Erat | $4,500,000 |
| Mike Fisher | $4,200,000 |
| Hal Gill | $2,000,000 |
| Matt Halischuk | $712,000 |
| Patric Hornqvist | $3,083,333 |
| Roman Josi | $1,000,000 |
| Kevin Klein | $1,350,000 |
| David Legwand | $4,500,000 |
| Pekka Rinne | $7,000,000 |
| Craig Smith | $900,000 |
| Nick Spaling | $1,050,000 |
| Brandon Yip | $750,000 |
Some are using the excuse that the reason the Predators have the lowest payroll in the league is because they only have 14 roster players signed. While that's true, they're hardly in danger of not being able to make a splash.
The prizes of this free agency class are defenseman Ryan Suter and forward Zach Parise. Some think it will take roughly $9 million to sign each player. Using that number, let's take the best case scenario and say the Preds sign both (again, purely as an example). That's a whopping $18 million tied up in just those two players. But guess who's still not even at the salary cap floor.
It's also assumed that team captain, restricted free agent and back-to-back Norris Trophy finalist Shea Weber will get at least an equal contract to Suter, if not a little more. So, based on the number we used for Suter ($9 million), let's assume he nets $9.5 million. Poile and company sign their captain and still have $7.8 million left over per year to sign four or five more players. And what are Poile and company best known for this time of year? Shrewd signings.
In 2007 it was Dan Ellis ($500,000). In 2008 it was Joel Ward ($500,000). In 2009 it was Marcel Goc ($555,000). In 2010 it was Sergei Kostitsyn ($550,000).
You get the idea.
If Poile can locate and sign two diamonds in the rough each summer like he has a history of doing, the foreseeable future looks bright. Weber, Suter, Parise and Pekka Rinne — in this scenario — would be the building blocks of a true Stanley Cup contender and they would be locked up for several years. All the Predators brass would have to do each year is do what they already do: identify role players who can contribute and sign them to modest deals.
Obviously we're talking about a lot of hypotheticals here and we're certainly not suggesting that Nashville inks both big ticket free agents. While that would be great, it's pure fantasy to assume such will happen. The point is, it's possible to do so without putting yourself behind the eight ball like most believe.
Bottom line: unlike seasons past, don't count Nashville out on July 1.
All the action begins at 11:00am Central.
—
RELATED READING:
—
NOTE: Salary cap numbers could change when new CBA is agreed on by the NHLPA and the NHL.
—
ALL SALARY FIGURES courtesy of capgeek.com