Has the best off-season in Preds history been turned into the worst?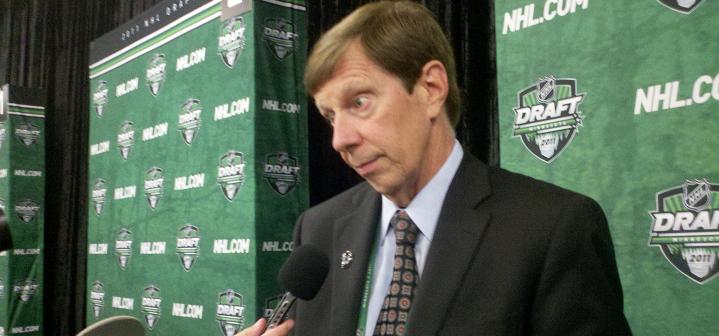 April 24, 2011: The greatest day in the history of the franchise. The Nashville Predators were finally going to the second round of the Stanley Cup Playoffs. The excitement around this club has never been higher. Die-hard and casual fans alike are elated for their hockey team and it gives people in Middle Tennessee something to watch in the middle of the NFL lockout news.
May 11, 2011: Shea Weber confirms to Buddy Oakes of Preds On the Glass that he wants to stay in Nashville. Putting to bed any rumor developed by the Canadian media, Weber himself says he wants to come back and that they'll work it out.
June 22, 2011: Both Weber (Norris Trophy) and Pekka Rinne (Vezina Trophy) finish second in their respective bids for post season hardware. Their runner-up finishes (as well as Barry Trotz's 3rd place finish in the Jack Adams voting) vault the Preds onto the map at the NHL Awards. Combining that and the second round playoff series against the Vancouver Canucks made the hockey world stand up and take notice for the first time.
June 25, 2011: The Predators unveil their new road white jersey at the NHL Draft. It's just the start of a media bonanza regarding the new threads, further feeding the excitement of the 2011-12 season.
Everything's great in Preds country, right? They had just won their first ever playoff series against the now-hated Anaheim Ducks, they went toe-to-toe with the Western Conference's best team, the Vancouver Canucks, in a series that was a lot closer than many thought it ever would be and General Manager David Poile and Shea Weber both were talking about working out a deal that would solidify one of "the Big 3." What wasn't to be sky high about?
June  29, 2011: It's reported that the Predators have failed to file the correct paperwork with seven of their restricted free agents. They key names involved? Playmaking center Cal O'Reilly, penalty kill specialist Nick Spaling, post season overtime hero Matt Halischuk and only the team's highest goal scorer Sergei Kostitsyn. No big deal, right?
July 1, 2011: The Preds can't compete in the free agent market, letting Joel Ward go to the Washington Capitals and Marcel Goc go to the Florida Panthers. Veteran winger Steve Sullivan is moving onto the Pittsburgh Penguins and JP Dumont was bought out of his $4.5 million contract but those two moves were expected. The loss of Ward and Goc — individually, let alone combined — really hurts the Preds up front.
August 2, 2011: In an event nobody saw coming, Weber and the Preds actually go to arbitration. The team elected for arbitration with their captain because it gave them more time to work out a deal while, at the same time, keeping other teams from submitting an offer sheet. It was a smart move for Nashville but, apparently, ruffled some feathers in Weber's camp (stick tap to Jim Diamond at the Examiner).
August 3, 2011: Hockey fans run rampant with speculation and heresay until the $7.5 million was awarded to the most coveted defenseman of the summer. People are taking all sides in this mess. Everything from "We don't want him here if he doesn't want to be here!" to "Trade him now!" to "Pay him whatever he wants!" The full gamut is being explored and voiced, turning this arbitration process — which never should have happened in the first place — into a PR nightmare for the Predators.
The arbitrator's decision came in last night and, even though $7.5 million is a realistic number, what has been lost? Sure the Utopian bliss of the playoffs has been crushed but that can be overcome once the season starts. To have the majority of your fan base (especially all the new fans that you picked up during said playoff run) turn on your team captain is not good. Matter of fact, it's a disaster.
An argument can certainly be made that we're only in this mess because of the arrogance and incompetence of Titan Sports Management, Weber's agency group. And things weren't exactly honeymoon-esque early on in their marriage either. Right out the gate, TSM published this wonderful "ad," spelling numerous words wrong and sensationalizing Weber's accomplishments well beyond what even a Hollywood screenwriter would find within reason. Then it was rumored that Weber knew Jarrett Bousquet of TSM previously. Which, of course, coupled with how they've handled everything since day one, suggests he was trying to do an old friend a favor in dumping long-time agent Don Meehan and replacing him with Titan. That's obviously pure speculation but is it really that hard to believe? I mean look at everything that's happened since the switch.
Whatever the reason for changing agents is doesn't really matter in the grand scheme of things. What matters is this was supposed to be a summer full of positive hockey talk on sports talk radio, a span on the calendar in which hockey fans could get together at non-hockey events and cheerfully bridge the gap until the season started, and a time full of daily anticipation for the month of October to get here.
Instead, it's been one gigantic public relations train wreck.
—
PHOTO CREDIT: Jeremy K. Gover // section303.com