Trotz missed practice to join DeKeyser effort…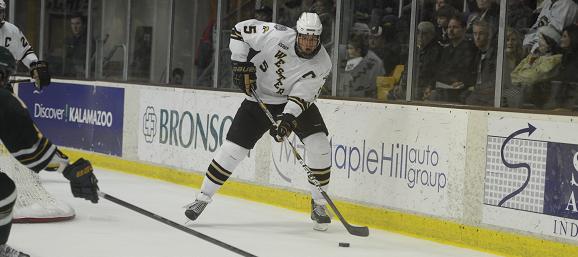 Per Josh Cooper of The Tennessean, the Nashville Predators are set to make a pitch to premier college free agent, Danny DeKeyser of Western Michigan University.
How badly do the Predators want the Broncos defenseman? Predators Head Coach Barry Trotz was not at practice today so he could join General Manager David Poile, AGM Paul Fenton and select others in the Nashville brass to make what appears to be an in-person pitch to DeKeyser and/or his agent, Newport Sports up in Ontario, Canada.
And how sought after is DeKeyser? When multiple teams — both contenders and bubble teams — are courting your services, you have some serious potential. The Macomb, Michigan, native just finished out his junior season at WMU and is considering several teams, reportedly the Detroit Red Wings, Anaheim Ducks, Edmonton Oilers, St. Louis Blues and, you guessed it, the Predators.
John Shannon of Sports Net is also reporting that DeKeyser will meet with the Toronto Maple Leafs during tonight's game.
Corey Pronman, who writes for the scouting/prospect site Hockey Prospectus, says DeKeyser has "has high-end hockey sense, good if not great mobility and a big frame that he's not afraid to use." He goes on to say that he would have been the most sought after collegiate free agent last year too had he not returned to Western Michigan.
Since an entry level contract has its financial limits per the CBA, the question becomes who is willing to put him in an NHL sweater right away? We've seen this dance recently with players such as Stephane Da Costa in 2011 (Ottawa) and Bobby Butler in 2010 (also Ottawa). The obvious difference is that the Ottawa Senators, in either year, were not playoff bound. So why not promise a young stud immediate playing time in order to sign him when the games won't cost you anything?
This year, however, Nashville (as well as Detroit and St. Louis) will most likely have to make that same promise, all the while still trying to make the post season. In short: it's a real gamble.
And what about the organization-wide rule that "the road to Nashville goes through Milwaukee?" What message would DeKeyser stepping right into the Preds lineup say to the rest of the prospects? Or does understanding that Roman Josi replaced Ryan Suter but nobody replaced Roman Josi make it acceptable?
We'll get answers to all these questions and find out who wins the sweepstakes — and at what cost — soon.
RELATED READING:
—
PHOTO CREDIT: GS Photo // Western Michigan Univeristy Athletics (used with permission)