Hurricanes use multiple power plays to beat exhausted Preds…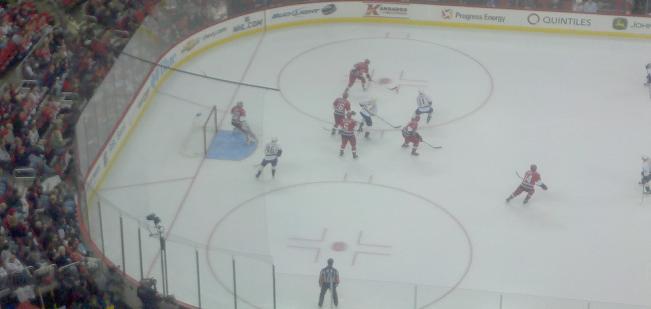 They had played seven games in 12 days, they had the excitement of the NHL's trading deadline yesterday afternoon, they had a big win against the Los Angeles Kings at home yesterday and they had a cancelled flight due to fog early late last night.
In short, the Nashville Predators were just flat exhausted.
In front of 13,595 at RBC Center in Raleigh, the Carolina Hurricanes used three second period power plays to beat the Preds, 4-3.
"We knew they played last night," Hurricanes captain Eric Staal said. "They didn't get in last, they got in this morning, so we wanted to make sure we took advantage of that. We stayed with our game plan and it was a big win."
Seeing as how it was an Eastern Conference opponent and the second game of a back-to-back set, Anders Lindback got the rare start. Just as he did in his last two starts against the New York Rangers and the Philadelphia Flyers, he was incredible tonight, making 29 saves in the loss.
The first period started with a bang for Nashville. Lindback made a tough save in the opening minute and then rookie Craig Smith potted his first goal since January 24 by putting home a rebound off of Cam Ward's pads to make it 1-0.
After making the first 18 saves of the game, the Hurricanes finally put a dent in Lindback. A failed clearing attempt led to Jamie McBain's seventh of the year and the tying goal.
The Preds would answer thanks to an unbelievable individual effort by Colin Wilson but then the parade to the penalty box started.
With newcomer Andrei Kostitsyn in timeout for hooking, Jeff Skinner chopped at a puck that flipped up and over Lindback. When it landed in the crease, Staal tapped it home.
Tim Brent used yet another Hurricane power play — and another failed clearing attempt — to pot the go-ahead goal. Skinner drove the puck to the net and, on the ensuing mad scramble, Brent poked it through Lindback's legs for the go-ahead goal.
How good were the Hurricanes on power plays tonight? They didn't even limit their offense to their own. They actually used a Predators man advantage to score the eventual game winning goal. Defenseman Bryan Allen popped out of the box when his slashing penalty expired and the puck came right to him. He broke in alone, got his own rebound and put his team up 4-2.
"It's been a while," Allen joked. "I just tried to go five-hole and it worked out."
The Predators would find some life in a Gabriel Bourque goal midway through the final frame but it was too little, too late.
"I thought our guys did a good job," Carolina Head Coach Kirk Muller said. "They're one of the elite teams right now. They force you to battle and make the right play consistently and, if you make a couple of mistakes, they capitalize. But I thought we played a pretty solid game tonight."
Nashville will have a much deserved three days off before flying to Miami for Saturday's game against the Panthers. The hiatus is their longest one remaining on the schedule. After Saturday they won't have another three day break until the regular season ends.
Puck drops at 6:30pm Central.
—
SPECIAL THANKS to the Carolina Hurricanes media relations staff for supplying the quotes.
PHOTO CREDIT:  Bob Wage // Canes Country (used with permission)