Ineffective power play, controversial call spell disaster for Preds in Minnesota…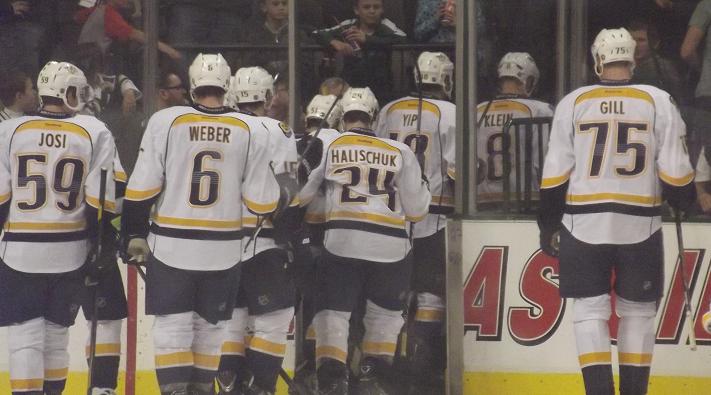 "Both players facing-off are prohibited from batting the puck with their hand in an attempt to win the face-off. Any attempt by either center to win the face-off by batting the puck with their hand shall result in a minor penalty. This penalty shall be announced as a "Minor Penalty for Delay of Game – Face-off Violation." Once the face-off is deemed complete (and winner of the face-off is clear), hand passes shall be enforced as per Rule 79." – NHL Rule 76.4
"Batting." That's the key word. Did Paul Gaustad make a "batting" motion during his face-off in overtime? The linesman sure thought he did and, therefore, the Minnesota Wild went on the power play. With just 0:27 remaining on the man advantage, Devin Setoguchi buried a one-timer to give his team the victory.
In front of 18,806 at Excel Energy Center, the Wild used the dubious delay of game call to pull off a 2-1 win over the Nashville Predators.
Truth be told, it wasn't the call that beat the Preds (although it certainly helped). Nashville went 0-for-6 on the power play and that was where most of the blame should fall. A conversion on any one of those opportunities extends the Predators' win streak to five games. Instead, they have to settle for just a point.
Chris Mason was unbelievable. Some of his 30 saves were highlight-reel quality but, unfortunately, he fell to 1-0-1 on the year.
Nashville got things started early. In the first period, winger Craig Smith burst into the Wild zone, beating Suter in order to get a shot off. He collected his own rebound from behind the net, forcing Niklas Backstrom to make yet another save only to have Paul Gaustad finally put it in for the 1-0 lead.
Wild forward Cal Clutterbuck would deflect a Suter wrist shot to tie the score in the middle frame. While standing in front of Mason, Clutterbuck held his stick out and tipped the puck downward, beating the Preds netminder.
After a scoreless third period, the two teams headed to the extra session where the controversy would take place.
The Predators will finally stay home for a while. Their slate consists of four games in seven days against quality opponents inside the friendly confines of Bridgestone Arena. Nashville will try to rebound from the loss on Saturday with a tilt against the Chicago Blackhawks on Sunday night.
Chicago is undefeated in regulation this season (9-0-2) and is well rested, having not played since Thursday. They even used Centennial Sportsplex ice to have practice Saturday morning.
Puck drops at 7:00pm Central.
—
PHOTO CREDIT: Melissa Grissom (used with permission)