It's time for the Predators to Run This Town again…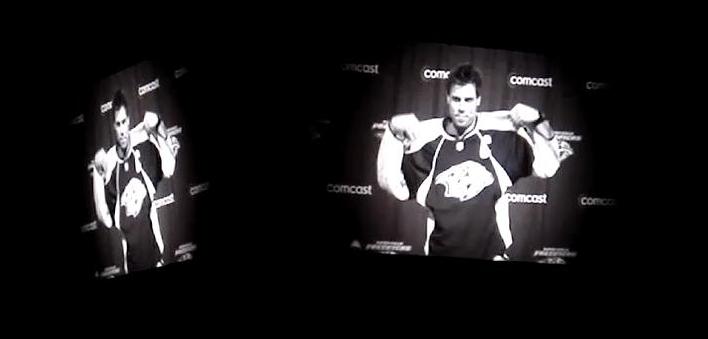 Now that the Nashville Predators have officially clinched a playoff berth, we can propose this.
What seems like a long long time ago (it's only been a year and half) and in an arena not too far far away, the Predators began each home game with a video set to the Posthumus Zone remix version of Jay-Z's two-time platinum single Run This Town. It was a huge hit. Matter of fact, it was so popular, all game intro videos since have been judged by it.
They've also fell short.
Don't get me wrong, there have been some good ones. Some liked Diddy-Dirty Money's Coming Home. Some liked Nickelback's Burn It to the Ground. Some even like the current one, Mötley Crüe's Kickstart My Heart. Some liked all of those but, the fact remains, none of them were as universal in appreciation and, most importantly, none of those have evoked the same kind of emotion that Run This Town did.
"It was the perfect pump-up song," said Rachel Rosato, a four-year season ticket holder in section 319. "It gave me goosebumps every time it played. It just made you feel like our team could take on anyone."
"When the video goes to color as Shea Weber puts on the Preds sweater," said Justin Bradford, a season ticket holder in Cell Block 303, "that's just a feeling of fangtastic rage. The kind of rage that makes you yell 'LET'S DO THIS!'"
Picture it: It's mid-April. Game 1 of the Stanley Cup Playoffs is here. Paul McCann finishes the pre-game announcements. The house lights go off. Nervous cheers erupt in anticipation of the playoff game that's only moments away. Then, it starts. The opening piano keys, signaling the song's triumphant return to Bridgestone Arena. All 17,113 go ballistic.
It's rare that a song can stir up that kind of emotion at a sporting event, but this one does. Game Ops really hit a homerun when they made Run This Town their first intro video of the 2010-11 season. Problem is, they also screwed themselves. When you knock it out of the park on something you change often, hitting doubles and triples just isn't good enough.
"No other video has even come close," Rosato said. "It will always be the one I compare every other video to. To this day, we still play the song in our car on the way to every single game to get us pumped up."
We propose that the Predators Game Ops crew do their part in creating the best possible environment for the playoffs. Bring back Run This Town. After all, before a single puck is dropped, before a single save is made and before a single goal is scored, you guys have the stage.
Take it and run with it.