Rinne flexes his Vezina Trophy muscles as Preds topple Red Wings…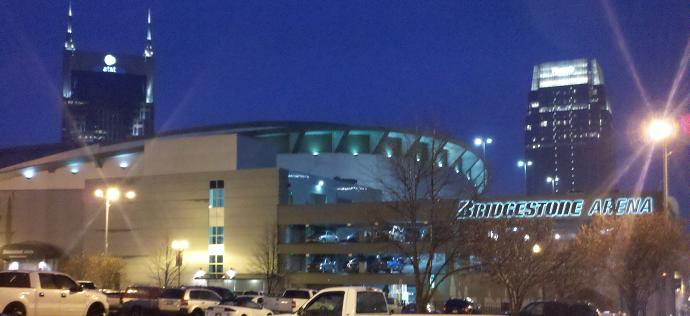 With a win against the Detroit Red Wings, the Nashville Predators would assume fourth place in the Western Conference standings. With a loss, they would fall three points behind Detroit and be in danger of falling into sixth with a loss to the Chicago Blackhawks on Saturday.
The Preds are now in fourth place.
In front of 20,066 fans and grey seats, Nashville dealt Detroit just their sixth regulation loss on Joe Louis Arena ice this year. On an impressive performance by Pekka Rinne and goals by Gabriel Bourque, Francis Bouillon, Alexander Radulov and Shea Weber, the Preds dominated the Wings, 4-1.
Rinne was at his Vezina Trophy best on Friday. He made 31 saves — 17 in the second period alone — and was their best penalty killer when Nashville took three penalties in the middle frame. His 70th game of the season was one of his best, improving to 42-17-8.
Bourque's wrister from the slot made it 1-0 and Bouillon's shot from the left face-off circle put the Preds up by two but it was Rinne who owned the second period. His save on Henrik Zetterberg's power play chance went beyond insane and Nashville's radio voice Tom Callahan declared it "the save of the season" given it's flair, it's timing and what was at stake.
With the Predators clinging to a one goal lead and the Red Wings on their third consecutive power play, Zetterberg stood on the far side of the crease all by himself. Staring at an open net, he bore down on his stick and went to tie the game. But then, out of nowhere, Rinne's glove came into the picture and kept his team ahead on the scoreboard.
If you missed it, behold "the save of the season."
The Predators will try to avoid "the Red Wing hangover" when they take on the sixth place Blackhawks on Saturday night at Bridgestone Arena. With a win over Chicago, Nashville will have their second 100-point season in three years and virtually guarantee a finish in the fourth or fifth place positions.
Puck drops at 7:00pm Central.
—
PHOTO CREDIT: Jeremy K. Gover // section303.com