Jedi Master vs. Padawan Learner as Rinne meets Lindback for first time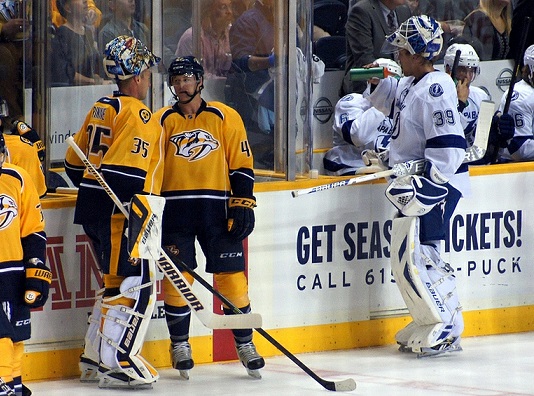 In front of 13,089, the Nashville Predators closed out their home pre-season schedule by beating the Tampa Bay Lightning, 2-1. But, being an exhibition game, the story wasn't the score but moreso the reunion of a starter and a back-up.
A Jedi Master vs. Padawan Learner, if you will.
Tonight marked the return of goaltender Anders Lindback to Nashville ice. A fan favorite while in Music City, the 2008 seventh round pick of the Predators was traded to the Lightning on June 12, 2012 because he was about to become a restricted free agent and had earned a shot at a starting gig. A shot he never would have gotten sitting behind Rinne, a two-time Vezina Trophy finalist.
"It was fun to play against him and it was great to see him play so well," Rinne said. "I thought he played a really strong game and he was, for sure, one of their keys guys tonight."
One of their key guys is right and he didn't waste anytime making that known. The 6'6″ Gavle, Sweden, native faced 13 shots in the opening frame alone, including an absolutely incredible stop late to keep it scoreless. With just 1:28 left, Kevin Klein spun along the half-boards, dishing a backhand pass to Shea Weber at the point. The Preds captain one-timed it through traffic, trying to get a deflection from Colin Wilson in front but Lindback reached back to make the stop.
One of his few blemishes came early in the second when Rich Clune stepped out of the penalty box only to find himself on a breakaway. Lindback made the initial stop but, on the rebound, Clune was able to get the puck across to Simon Moser who buried his first goal on North American ice. The Swiss forward is in camp on a tryout agreement and has managed to survive three rounds of cuts.
When the teams came out for the final stanza, Lindback remained in the Tampa net while 2012 sixth round pick Marek Mazanec replaced Rinne between the Nashville pipes. Rinne stopped all 14 shots he faced on this night, giving him 80 minutes of shutout hockey on home ice during the pre-season.
"For me, it's been a long recovery from the injury," Rinne said. "I feel good, I feel confident and I'm happy that I've been able to play pretty well so far. On the road, hopefully, I'm going to get a full game and then, from there, it's boom! Season starts."
After Rinne had taken his new position on the Predators bench, Klein made sure to give the home team a little insurance. With just over 5:00 remaining, Paul Gaustad won a face-off deep in the Tampa zone. The puck went straight back to Klein who ripped it high-glove side on Lindback to make it 2-0.
Once Lindback left the crease for an extra attacker, Steven Stamkos got the Lightning on the board. In the high slot, he wristed a laser, the likes of which Mazanec has probably never seen in the Czech Elite League. His goal cut the Nashville lead to one but it was too little too late for Tampa.
In the end, Lindback was robbed of one of the game's stars. Without his performance, things would have gotten ugly for the Lightning in Music City.
"He was our best player," Lightning Head Coach Jon Cooper said. "He was under control, he played the puck well and I thought he was exceptional. Plus, he's coming into a town that he used to play in so there's that added kind of pressure on him and he responded. It was great to see."
"Him being a good friend of mine, you like to see him do well," Rinne said. "But this was a perfect game. He played well and we got the win."
The two goaltenders will square-off for real on December 19 down in Tampa and then again February 27 here in Music City. The in Nashville will be the Predators' first game after the Olympic break.
Nashville will hop on a plane in the morning and head to Washington, D.C. where they'll take on the Capitals Wednesday night. The puck drops at 6:00pm Central and you catch the pre-game show on 102.5 The Game starting at 5:30pm.
***
MY THREE STARS (as voted on with 5:25 left in regulation):
1. Pekka Rinne (NSH)
2. Anders Lindback (TB)
3. Simon Moser (NSH)
THE THREE STARS OF THE GAME:
1. Kevin Klein (NSH)
2. Simon Moser (NSH)
3. Pekka Rinne (NSH)
—
PHOTO CREDIT: Sarah Fuqua (used with permission)