Join the 303 Road Trip to St. Louis on 4/9! – Sold Out!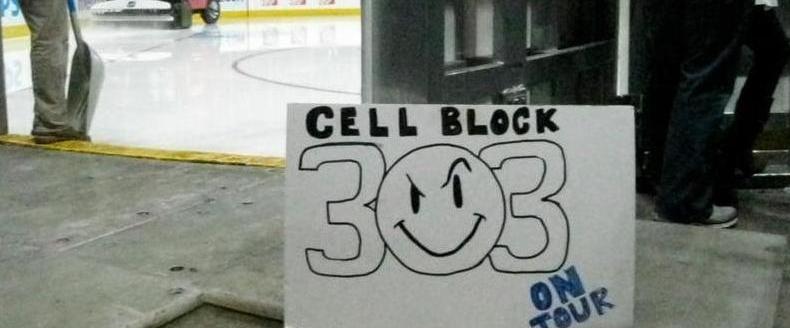 Ladies and gentlemen…we're doing it again.
After the success of the inaugural Cellblock 303 Road Trip to Atlanta, we figured…why wait? So we organized another one…this time, it's an overnighter.
On Saturday, April 9th, the Predators are taking on the St. Louis Blues at the Scottrade Center and you can be there.
This is the final game of the regular season…it could have playoff implications…why miss it?
section303.com has procured the use of an Anchor Trailways bus (driven by a licensed professional) and has acquired lower bowl tickets in the Scottrade Center.
The buses will leave out of Nashville Saturday and arrive at the Millenium Hotel – St. Louis a few hours before game time. The hotel is a few blocks from the arena. We will return on Sunday, rolling into Nashville at somepoint midafternoon.
The total cost for the bus and game trip, which consists of 1 seat on the bus and 1 lower bowl ticket and various Cellblock 303 goodies will be $105.
The group rate for the hotel is $109 per room. Once you have paid your way onto the bus, I will forward you the room reservation information.
Here's how to go:
Send Patten an e-mail at

[email protected]

with your name, the number of people in your party and a cellphone number where you can be reached on game day.

Pay $105.00 per person via Paypal to 

[email protected]

or arrange alternate payment with Patten.
Once payment is made, Patten will supply you with the group number for the hotel. You will book the hotel separately.
Stay tuned to your e-mail for exact departure location, times and other arrangements.
There is a cap of 55 people for this trip and seats are first come, first serve. 

Your spot is not reserved until you pay for it.

All room reservations and trip payments must be made by February 28th.
We've done it before and we're going to do it again…this time to St. Louis. We're going to take them by storm and we need YOU to be with us! Sign up today!
Please Note: All game-only tickets have been accounted for and we can no longer accomodate these requests. If you would like a ticket to the game, please contact the Blues directly.
—
PHOTO CREDIT: Melanie Clark