Korn, goalies to make most of Rinne injury situation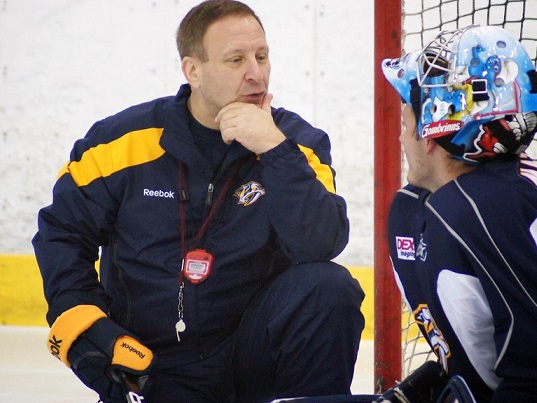 When Pekka Rinne went on injured reserve, it left the Nashville Predators with three games of NHL experience between the pipes.
In their entire system.
Rinne had surgery on his hip over the summer and, following his 27-save performance against the Minnesota Wild last Tuesday, started feeling soreness for the first time since the season began. It was discovered that he had suffered a "spontaneous bacterial infection" in the surgically repaired hip.
"Talking to the doctor, they have no idea how this developed five months after the fact," General Manager David Poile said. "Pekka was healed up and had no significant pain or setbacks along the way."
As a result, Rinne had his hip scoped last week and will "miss a minimum of four weeks."
The Predators are coming off an uncharacteristic, injury-decimated season in which they finished with the fourth-worst record in the league. For a team that had participated in seven of the previous eight postseasons, it was disappointing beyond words. But, with a re-tooled forward corps that featured Viktor Stalberg, Matt Cullen, a healthy Colin Wilson and 19-year old phenom Filip Forsberg, and with Rinne playing tremendous hockey both in the pre-season and regular season, the Preds looked poised to prove that last year was merely a hiccup.
Instead, the offense is still struggling, Stalberg and Forsberg have been healthy scratches this season and now they have to worry about the crease.
Backup goaltender Carter Hutton has been thrust into the starting role while 2011 second-round pick Magnus Hellberg has been called up from the Milwaukee Admirals. The two have started a combined four NHL games in their careers (all Hutton's).
"I feel fine," goaltending coach Mitch Korn said about his confidence in the current tandem. "A couple things: number one, we're playing well in our own zone and we defend well. Number two, they're quality guys, they work hard and they get better every day, so it's okay."
They're going to need to get better every day. Rinne is a two-time Vezina Trophy finalist as the league's best goaltender, he was (and hopefully still is) an Olympic hopeful for his native Finland and is the franchise leader in goals-against average (2.36), save percentage (.919) and shutouts (30) and he's second on the club's all-time list in wins (157). If that wasn't enough, an argument could be made that, with their lack of scoring, he's the sole reason the Predators are in games most nights.
"We're going into uncharted territory," Korn said. "I broke my crystal ball last week so I don't know (how things will play out). I just know that they're good people, they're skilled goalies, they have good work ethics and they get better every day."
Nashville went through something similar in 2010 when Rinne was bowled over by Anaheim Ducks forward Troy Bodie in the home opener. A 21-year old Swede named Anders Lindback was forced into the starter position while Rinne healed up. Lindback, who had never played a single minute of hockey on North American ice, came in and played admirably. He started the next three games, going 2-0-1, and bought Rinne enough time to get healthy.
This time, however, Rinne's recovery will take an unspecified amount of time. In 2010, he was listed as "day-to-day." In 2013, he's out for at least a month. Perhaps longer.
"It is very important to kill the bacteria from the hip because this kind of infection is very dangerous," Rinne told the Finnish magazine, Urheilulehti. "It can derogate the joint inside the hip. So I don't know about the timetable. First and foremost, we have to focus on getting the infection eliminated."
When news of the injury broke, most started speculating as to what Poile would do. Or, more like, who would try to go get. Would he sign a free agent veteran like Ilya Bryzgalov who excelled in a defense-first system when he was with the Phoenix Coyotes? Would he ink 2002 Vezina and Hart Trophy winner Jose Theodore as a stop-gap? Or would he try and swing a trade to acquire a guy who can get them over the hump until Rinne is ready to return?
How about none of the above?
"The answer is no," Poile said Thursday when asked about exploring the market for another goaltender. "If this all pans out, it'll come down to eight or nine games, something like that. We've put a lot of time and interest in Carter. We have a lot of potential and faith in the development of Hellberg and (Marek) Mazanec."
That vote of confidence means a lot to Hutton, a career AHL goalie until the Preds signed him on July 5.
"It's pretty nice having that support," Hutton said. "I think from the start, even in the summer, David and the whole staff have shown a lot of confidence in me. A lot of people questioned my experience level but, at the same time, they've always backed me and I think that's something that's very important."
Hellberg shared the appreciation.
"You always want confidence from the organization and to see that they believe in you," he said. "It makes you a little calmer knowing that they do. Obviously, you still have to fight hard every day to get better but it's nice that they have confidence in you."
Last season with the Admirals – his first in North America – Hellberg posted shutouts in the final two games of the season in order to propel his team into the Calder Cup Playoffs. Additionally, most read Hutton's one-year, two-way deal to mean that Hellberg was just a year form an NHL gig. Either way, the future is bright for him.
"Last season was pretty good for both for me and the team," Hellberg said. "I went into this season with a lot of confidence. I got injured the first day of camp and that set me back a little bit but I'm back 100 percent now. And now I'm here so I'm excited."
Hellberg knows that ice time will be hard to come by. The Predators don't have a single set of back-to-backs on the upcoming 17-day road trip and, therefore, Hutton may get every start. He also knows that, once Rinne comes back, he'll return to Milwaukee and continue his development there. But that doesn't mean he's not making the most of the opportunity.
"I get good shots on me every practice," Hellberg said. "And, just to feel the atmosphere and get used to how it is to be up here."
Head Coach Barry Trotz didn't rule out using the other highly-touted goalie in the system as well. Mazanec is in his first season in North America, having played just two games, going 2-0-0 for Milwaukee so far. But, if the Preds decide to swap goalies, it's not a dig at Hellberg but rather a chance to give Mazanec experience with the big club too.
"If there's a break in our schedule maybe Hellberg's back to Milwaukee and Mazanec's coming up for a game," Trotz said. "We're going to look at all the schedules and sit down with Mitch, with David, with the coaching staff and also with Dean Evason and look at where we are. We don't have a specific plan down but we'll probably have a week-to-week game plan for the next little while here."
The Admirals play a back-to-back-to-back set in Texas the weekend of November 8. Surely the organization would like to rotate Hellberg and Mazanec in those games.
Either way, this is Hutton's chance to shine.
"Will it be good enough? I don't know," Korn said. "I'm hoping it is because I think our team is way better. If we find that it's not, we'll adjust. And if we find that it is, good for us."
"I've just got to take it day-by-day, period-by-period and shot-by-shot," Hutton said. "I've just got to keep it slow, keep things in front of me and just go from there."
While unfortunate and certainly not part of the plan, at least Rinne's injury happened early in the season, right?
"I don't think there's ever a good time," Korn said. "It is what it is, you just deal with the hit."
The Predators hope the hit isn't a knockout blow. If they can survive a few rounds while Rinne is out (i.e. play .500 hockey), then they should still be in the mix come playoff time. If they falter, that puts a lot more pressure on Rinne's shoulders once he gets back. And, in an Olympic year that's more compact than usual, that's hardly ideal.
As ideal as it may sound.
—
PHOTO CREDIT: Sarah Fuqua (used with permission)