Kostitsyn scores in the eighth round of the shootout to beat Kings…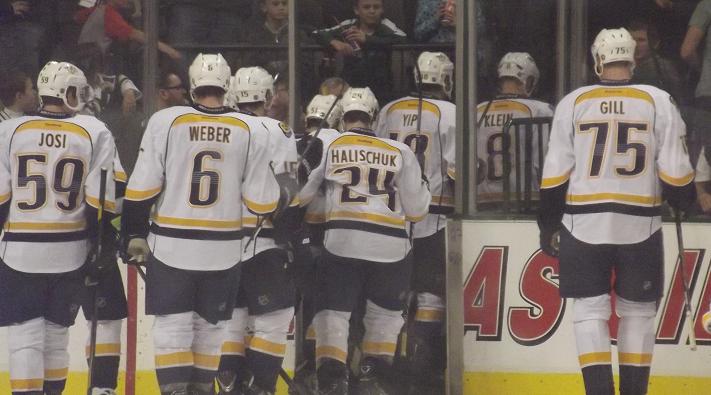 Two struggling teams fought well into the night in order to decide this one.
The Los Angeles Kings were 2-2-1 coming into the night while the Nashville Predators had only won once in their six games. Something had to give.
With 18,118 inside Staples Center looking on, Pekka Rinne got his first victory of the 2012-13 season in the Preds' 2-1 shootout victory.
Rinne collected 23 saves during regulation and is now 1-2-3 on the year.
Just a minute into the contest — and right off the face-off — Brandon Yip fired a rising shot that tucked itself under the crossbar to give Nashville the 1-0 lead. David Legwand won the draw back to Gabriel Bourque who then tapped it to Yip who tallied for his second of the year.
The Kings would tie it up in the waning moments of the first, however. Drew Doughty rocketed a shot from the point that went over the net. With the trajectory of the initial shot, Rinne thought the puck went off the glass behind him and toward the corner. Instead, the puck caromed in front of the net where Kings captain Dustin Brown was waiting. He slammed it home to make it 1-1.
The next 45:00 went scoreless and the two teams even went into an eight-round shootout before a winner could be decided. Sergei Kostitsyn made about 12 moves during his attempt and put the puck past Jonathan Quick to give the Predators their first shootout win of the season.
Nashville had participated in three shootouts before tonight, losing all three.
The Predators will remain out west for one more tilt. Next up are the undefeated San Jose Sharks (7-0-0) on Saturday night before Nashville finally gets to head back to the Central Time Zone.
Be sure to get a nap in as the puck drops at 9:30pm Central. You can hear yours truly on the post game show with Willy Daunic on 102.5 The Game.
LEFTOVER THOUGHTS:
* Defenseman Jon Blum and forward Brian McGrattan were the scratches for the Predators.
* Blum has yet to dress for a game this season.
* It was the second time this season Brandon Yip has netted Nashville's first goal of the game.
* Nashville failed to register a shot on goal in the final 16:18 of the first period.
* Their first shot on goal of the second came at 2:13.
* Defenseman Scott Hannan was living up to the reputation of the #22 on his jersey. He took three penalties in the first 23:07 of the contest.
* Sergei Kostitsyn had never scored in the shootout.
THE THREE STARS OF THE GAME:
1) Jeff Carter (LA)
2) Shea Weber (NSH)
3) Drew Doughty (LA)
—
PHOTO CREDIT: Melissa Grissom (used with permission)