Preds deal Sharks their first loss of the season…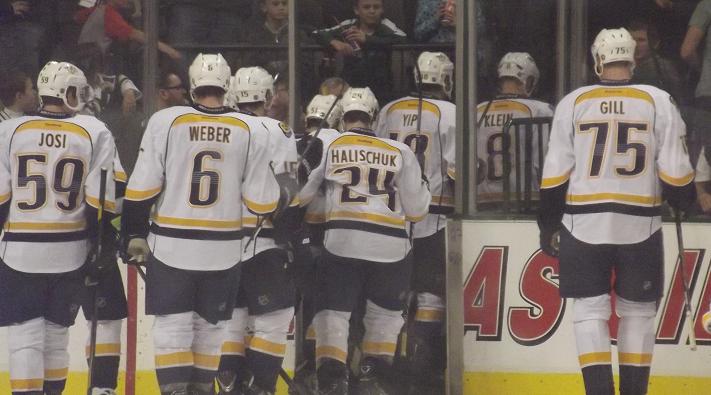 Coming into the night, the San Jose Sharks were 7-0-0. The Nashville Predators? 2-2-3.
You could almost see this coming.
In front of 17,562 at HP Pavilion in San Jose, the Preds got back to their hard-working ways and beat the heavily favored Sharks, 2-1, in the shootout.
Nashville netminder Pekka Rinne got his seventh start of the year and turned in a 26-save performance for his second win.
After a scoreless two periods for both sides, Sergei Kostitsyn finally broke through. After receiving a pass from Colin Wilson along the half wall, Kostitsyn used Dan Boyle as a screen, firing a puck through his legs and eventually through Antti Niemi for the 1-0 lead.
Martin Havlat would get the equalizer after Nashville took a too many men penalty in the final frame. The Sharks power play has been potent all season long, clicking at 30.8% and the Preds escaped trouble by successfully killing off their first four opportunities. But on the fifth, the Sharks finally bit them. Tonight, they were 1-for-5 but that one conversion got them a point in the standings as it tied the score and forced overtime.
The Predators controlled the extra session but failed to get one over the goal line so a shootout — for the fifth time this season for Nashville — was required.
Craig Smith was the Predators' second shooter and froze Niemi with a kick-fake in the high slot. Once the Sharks netminder over-committed by going down, Smith made a move and buried the game-winner.
Nashville will now fly home for a day before heading to St. Louis to take on the Blues on Tuesday night. Puck will drop at 7:00pm Central and the Preds will look to make up for their miserable 13-shot performance the last time the two teams met.
You can catch all the action on Fox Sports Tennessee and 102.5 The Game.
THE THREE STARS OF THE GAME:
1) Pekka Rinne (NSH)
2) Antti Niemi (SJ)
3) Sergei Kostitsyn (NSH)
—
PHOTO CREDIT: Melissa Grissom (used with permission)