Poile to Colin Wilson: "It's time to live up to expectations"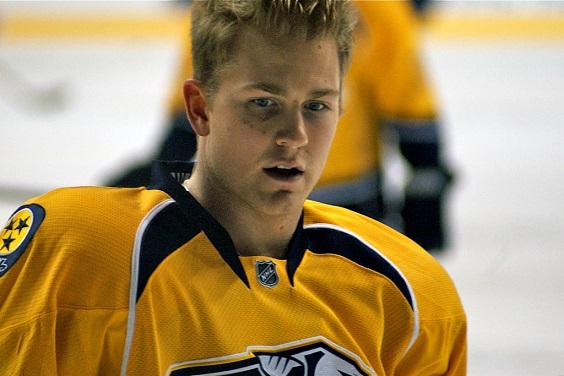 Nashville Predators General Manager David Poile spoke with Willy Daunic, Darren McFarland and the guys at 102.5 The Game on Tuesday. Naturally, he came on to talk about the hiring of Peter Laviolette as the franchise's second ever head coach but they ended up talking more about the team's offensive struggles.
Among the players mentioned? Colin Wilson.
"After watching Los Angeles and Anaheim last night and watching [Anze] Kopitar and [Ryan] Getzlaf go at each other, we said 'That's what we need!'" Poile recalled of his discussions with the scouts in town. "'We need a 6'3″, 220 pound center.' Then it was brought up 'We have one. That's Colin Wilson.' But he hasn't developed the way we had hoped or thought he would."
Wilson was drafted seventh overall in 2008 with the hopes that, one day, he would become a key piece to Nashville's offensive puzzle. The former Boston University center hasn't yet realized that potential. Not even close. His best season came during the lockout-shortened 2013 campaign when he rattled off 19 points in 25 games before going down with a shoulder injury. He's tallied just 33 points in his 81 games since.
"Barry chose to play him on left wing," Poile said. "We're certainly hoping that Colin can adjust to play at center, which is his natural position. Does he have that ability? Right now, the jury is out because he hasn't done it."
It's no secret that Trotz tried to get Wilson's attention several times throughout his five pro seasons. Everything from scratching him during the playoffs to demoting him to the third and fourth lines. But now Poile, himself, has put Wilson on notice. At the end-of-season exit meetings, the GM and player met face-to-face and talked about the future.
"I said 'Colin, more than likely, you're going to be back here,'" Poile said. "'I couldn't probably trade you for anything near where I think your value would be. You're going to be 25 years of age, it's time to live up to the expectations. We're going to have a new coach, it'll be a second chance for you and we're going to have to find out if you're the real deal.'"
That new coach, Laviolette, has a history of cultivating offensive talent. When he was in Carolina, he had an Eric Staal that posted just 31 points in his rookie year and turned him into a 100-point scorer the following season.
But Staal was the second pick in a deep 2003 draft class. That may have been more Staal than Laviolette. Fine. What about Claude Giroux? He was taken 22nd in 2006 behind guys you've never heard of like Mark Mitera and Riku Helenius. He was a 40-point player before Laviolette took over in Philadelphia and coached him into a point-per-game guy and a Hart Trophy nominee (2013).
To be fair, there are also cases such as Sean Couturier who was supposed to be the steal of the draft when he slid to the Flyers at eighth overall in 2011. Instead, he managed just 42 points in 126 games under Laviolette. Is that because he was just 19 and 20 years old and not ready for the rigors of the NHL, let alone in a cut-throat market like Philadelphia? Possibly. But only time will tell that.
The question remains: can Laviolette resurrect Wilson's career? It's probably a little much to expect the Greenwich, Connecticut native to throw up 82 points next season but, hey, the Predators would gladly take his stat line reading "60."
Make no mistake, a return to the playoffs is the goal. But, an exciting, up-tempo style of hockey and a potent offensive weapon at the forward position sure would be nice to see around Music City.
After all, it's time to live up to the expectations.
---
PHOTO CREDIT: Sarah Fuqua (used with permission)