Lindback, Preds beat Minnesota, move back into fourth…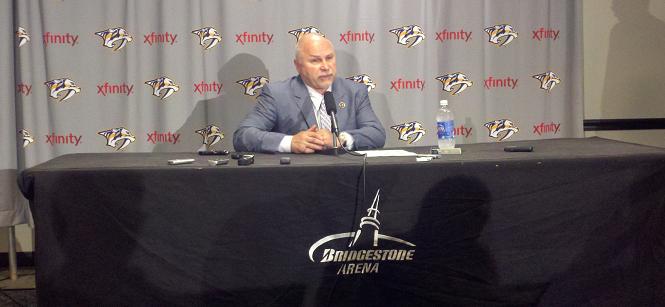 It was his first start on home ice since December 3.
It was also his first win on home ice since December 15, 2010.
By way of shootout, the Nashville Predators beat the Minnesota Wild, 2-1.
Anders Lindback responded to the home crowd fans, making 25 saves in the victory, improving to 4-8-0 on the season.
A scoreless first led to a relatively uneventful middle frame. Until Gabriel Bourque notched his seventh of the season, anyway. Nick Spaling flipped a backhand saucer pass out to Bourque in front of the net. The former Moncton Wildcat one-timed it past Niklas Backstrom for the 1-0 lead.
Just moments later, after Devin Setoguchi hit the post, Dany Heatley tipped a Nate Prosser shot past Lindback to tie the game at 1-1.
It would take a shootout to decide this one, however, and Alexander Radulov became the hero with this sick move on Backstrom, giving his team the 2-1 victory.
The Predators are now back in fourth place in the Western Conference. The fifth place Detroit Red Wings have a tough test against the St. Louis Blues tomorrow night and, with a Blues win, Nashville could be in the drivers seat for home ice advantage in the first round of the Stanley Cup Playoffs.
The Preds will try to get point numbers 101 and 102 against the Dallas Stars on Thursday night. Dallas will be fighting for the playoff lives as well as praying for some help.
Puck drops on this critical game for both teams — for different reasons — at 7:00pm Central.
LEFTOVER THOUGHTS:
* Due to an illness, Pekka Rinne was scratched on Tuesday.
* This was the first time Rinne has been scratched since 2008.
* Anders Lindback got his second start since February 28 and his first home start since December 3.
* Lindback won inside Bridgestone Arena for the first time since December 15, 2010.
* Chet Pickard, Nashville's 2008 first round pick, was called up from Cincinnati Tuesday morning and served as the back-up netminder.
* It was Pickard's first time in an NHL uniform for a regular season game.
* There was a scary moment early in the first period when Darroll Powe's skate clipped Wild forward Kyle Brodziak in the face. Preds alternate captain Ryan Suter was visably concerned, motioning for a trainer. There was no stoppage in play, however, and Brodziak skated to the bench holding his face in his glove.
* Brodziak returned at the end of the first period with a visor on.
* Thanks to a couple icing calls, Suter and Shea Weber had a 3:13 shift in the second period.
MY THREE STARS:
1) Gabriel Bourque (NSH)
2) Anders Lindback (NSH)
3) Niklas Backstrom (MIN)
THE THREE STARS OF THE NIGHT:
1) Anders Lindback (NSH)
2) Gabriel Bourque (NSH)
3) Niklas Backstrom (DAL)
—
PHOTO CREDIT: Jeremy K. Gover // section303.com