Preds beat Stars, control their own destiny on Saturday…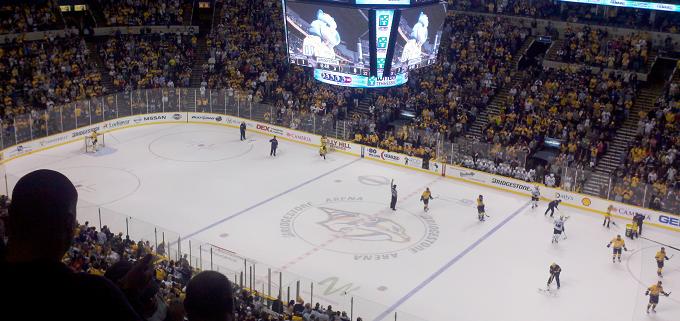 In front of 17,113 at Bridgestone Arena, the Nashville Predators put themselves back in the drivers seat when it comes to home ice advantage for the first round of the Stanley Cup Playoffs.
Preds defenseman Francis Bouillon potted his fourth goal in his last 13 games and then Patric Hornqvist wristed home a rebound to make it 2-0 late in the contest to seal the victory and Dallas' fate.
With the loss, the Stars were eliminated from playoff contention.
More importantly for Nashville, however, is that they control their own destiny once again. If they get so much as one point on Saturday, the Predators will have home ice advantage in the first round.
"The Saturday night game is going to be huge for us," Hornqvist admitted. "We were great at home and have been all year. I'm looking forward to Saturday night and I hope we can get a big win and start (the playoffs) at home."
If Nashville can't at least force overtime against the Colorado Avalanche in Denver on Saturday, they'll need help from their arch rival, the Detroit Red Wings.
Detroit currently sits in 5th place with 101 points. The Chicago Blackhawks sit in 6th with 99. It just so happens that the two play each other on Saturday. The Red Wings need to win to have any chance of home ice. If Chicago wins in a shootout or overtime, the Predators have home ice and will play Detroit. If Chicago wins in regulation, the Predators will have home ice and play Chicago. If Nashville loses and Detroit wins, the Red Wings play the Preds and Detroit will have home ice.
Get all that?
It may be an easier road then normal for Nashville as the Avs were officially eliminated from playoff contention on Thursday night when they lost to the lowly Columbus Blue Jackets.
The Preds will have something to play for and the Avalanche won't. Sounds like a good recipe for success.
Puck drops on the final game of the season (for both teams) at 8:00pm Central.
—
PHOTO CREDIT: Jeremy K. Gover // section303.com