Lindback Wins AHL Debut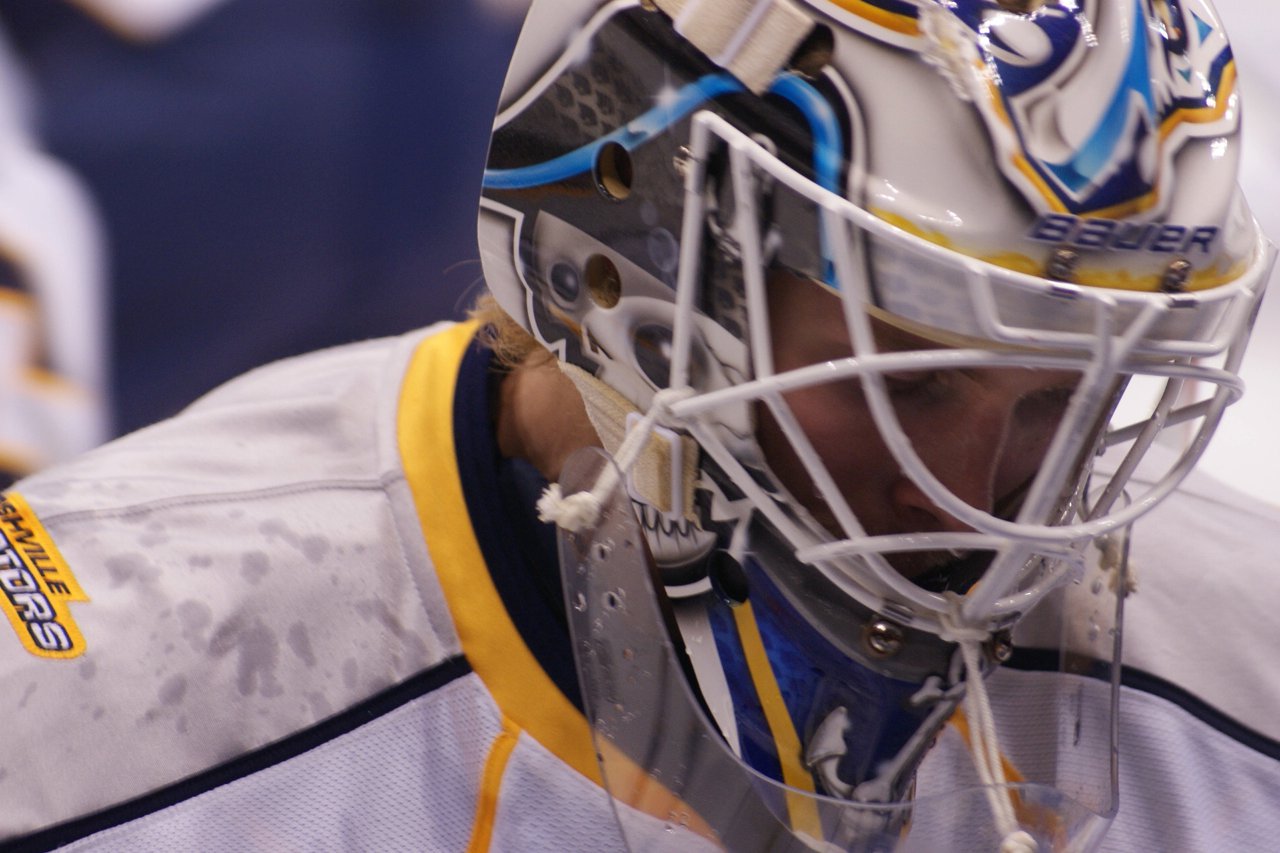 It was far from perfect.
He looked rusty.
He needed a lot of help from his teammates.
But in the end, a win is a win…and Anders Lindback picked up the W in the Milwaukee Admirals' 5-4 Tuesday night win against the Houston Aeros.
Lindback, who was sent down to Milwaukee on Tuesday morning, had to this point played his entire first season in North America in the NHL with the Predators. Tuesday night, in Houston, he would make his debut in an Admirals uniform.
The game started out well enough as the Ads jumped out to a 1-0 lead, as Andreas Thuresson capitalizing on a power play in the opening moments of the game.
At 10:20, the Ads added another as Chris Mueller scored an unassisted goal to make it 2-0.
Two minutes later, the Aeros put up their first as Patrick O'Sullivan scored on the power play. As the first period came to a close, Anders the Giant had saved 11 of 12 shots for a .917 save percentage.
Both teams deadlocked in the second period as Anders continued to keep Houston shots out of the Milwaukee net. Finally, with 0:46 to go in the second period, Brandon Buck managed to drive a shot past Lindback to tie the game as the teams went to the locker room.
The Aeros carried the momentum into the third period as O'Sullivan rang up his second at 1:16 to give the Aeros their first lead of the game.
At 3:59, Lindback managed to let in what might be the worst goal he has allowed as a professional goaltender as he allowed a blocked shot from Warren Peters to trickle by him. It was the fourth unanswered goal that Lindback had allowed in a little over 30 minutes of play.
The Aeros were leading 4-2 with 16 minutes left.
Enter The Maverick – Brett Palin – he of two goals in an Ads uniform. Palin blasted a shot that beat Anton Khudobin at 4:19. All of a sudden, the Ads had life again.
At 7:50, Matt Halischuk tied the game…and at 9:43, Halischuk picked up the puck in the crease to bury it behind Khudobin as the Ads came from down 4-2 to grab a 5-4 lead in a matter of 5:34.
From that point on, the Ads managed to hold on and give Anders Lindback his first AHL win. His final save percentage was an ugly 0.886 (4 goals on 35 shots), but in the end…he got the victory.
Roman Josi, however, did not fare as well, as his 13-game point streak came to an abrupt halt.
The Ads play at Oklahoma City Wednesday night. If the goal is to get Anders as much playing time as possible, he should be right back in it tomorrow night.
| Team | 1 | 2 | 3 | Final |
| --- | --- | --- | --- | --- |
| Milwaukee Admirals | 2 | 0 | 3 | 5 |
| Houston Aeros | 1 | 1 | 2 | 4 |
| | |
| --- | --- |
| Location | Toyota Center – Houston, Texas |
| Winning Goaltender | Anders Lindback |
| Losing Goaltender | Anton Khudobin |
| First Star | Matt Halischuk (MIL) – 2G (GTG, GWG) |
| Second Star | Patrick O'Sullivan (HOU) – 2G – 1A – 3P |
| Third Star | Blake Geoffrion (MIL) – 1A |
| Attendance | 3,704 |
—
PHOTO CREDIT: Sarah Fuqua