LIVE FROM HERSHEY: Klasen Steals the Show in Skills Competition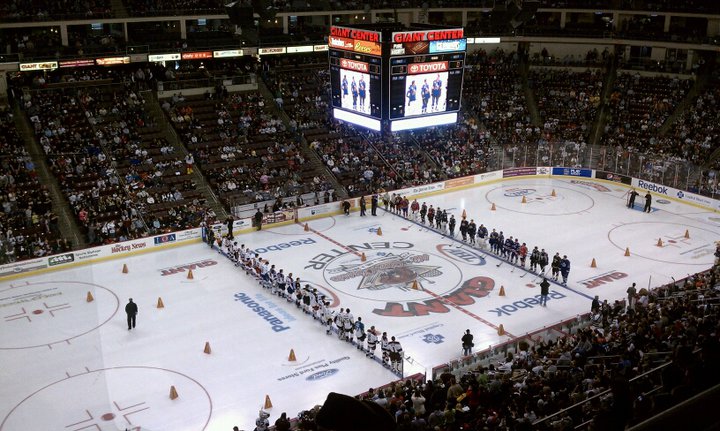 The Eastern Conference may have blown out the Western Conference in the Skills Competition, but that won't be the part that anyone remembers.
Linus Klasen, the Milwaukee Admirals forward, was the last shooter of the second round of the Panasonic Breakaway Relay. The Breakaway Relay is exactly like the shootout in the NHL All Star Skills Competition except each wave of 5 skaters has to get their shots off inside of a minute. Every single player to that point had done a generic shootout move, not getting anymore wacky than coming in and going backhand.
Klasen, however, brought something different. Breaking in on Manchester Monarch's goalie Martin Jones, Klasen did a 360 as he reached the goal and shot it behind Jones. One announcer said, "I think that's the best shootout goal that I've ever seen."
For Klasen, it was just another day in the office.
"It's something I've been practicing," Klasen told Section303.com. "Obviously there were 10,000 and I wanted to show them something. Luckily, I didn't fall and end up in the corner…I had done it in games back home, I do it in practices sometimes. I do a lot of that stuff at practices and some games, too. It just comes naturally for me."
When asked if he would ever try it in an NHL game, "If we get to a shootout, maybe."
He hasn't had his chance yet, though, as he pointed out, "I was up for two weeks (in Nashville) and no games went to overtime."
A former World Inline Hockey champion, Klasen said that he had even pulled the 360 move in that arena, "I've done it (on inline skates)…I do different stuff every day, it just comes sometimes."
Klasen's Admirals and Western Conference teammate Mark Dekanich watched from the sidelines.
"Dude, it was awesome," Dekanich said. "He made an unbelievable move and it's something that I've seen before, but he certainly likes to keep it secret. I'm glad that he executed in front of over 10,000 people – that's pretty cool."
—
The All Star Competition is the first for both Dekanich and Klasen.
"It's a good opportunity for everyone to see us and it's honor to be one of the top players in the league," Klasen said. "(Milwaukee) Coach (Lane) Lambert gives me a lot of confidence, he plays me a lot and he knows how to me play me, too."
"It's a great experience," Dekanich said. "It's an honor to be voted into one of these games and to be able to meet and play with all of these great players."
—
After playing games on back-to-back nights, Klasen and Dekanich both had to be up at 4 am to get to Hershey in time for the Skills Competition.
"I just want a hot shower," Klasen said. "It's hard, but you gotta do what you gotta do."
—
As for the most pressing question of the season, Mark Dekanich finally revealed the answer.
"If I taught my pug to skate," Dekanich said, "I would be a rich man."
—
PHOTO CREDIT: Patten Fuqua