LIVE FROM LAS VEGAS: Pekka Rinne takes 2nd in Vezina voting…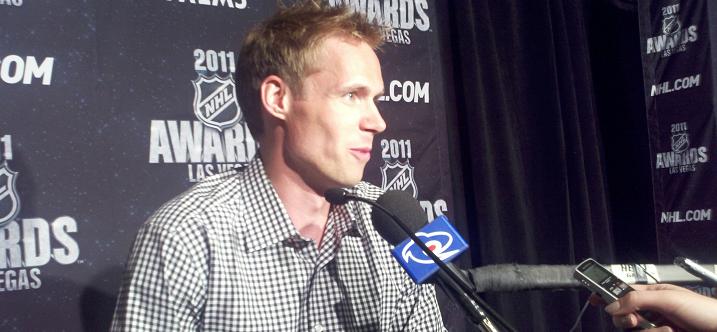 Let's be honest. Tim Thomas had this thing wrapped up since the beginning.
And no, the playoffs don't count. He was just that good.
Pekka Rinne, the bonafide elite goaltender for the Nashville Predators, finished second in the Vezina voting and while it's an honor just to be nominated, to be mentioned in the same sentence as the two guys who battled for the Stanley Cup is quite a compliment.
Rinne garnered 84 points in the Vezina voting (six first place votes, 17 second place votes and three third place votes). Thomas scored 104 points (17-5-4) while the third place Roberto Luongo got just 33 (3-4-6). So, as you can see, it was Thomas and Rinne fighting for the award.
Rinne, 28, was third in the league in goals against average (2.12), second in save percentage (.930) and, more important than numbers, gave his team a chance to win every single game. Of course, considering he was hurt twice during the season, having registered six shutouts is pretty impressive as well.
While some may argue, I don't think there's any doubt that the Kempele, Finland native was the Preds' most valuable player this season. Without him, Nashville would be a lottery pick team with the likes of the New York Islanders, Colorado Avalanche and Edmonton Oilers. (Actually, since they traded that pick for Mike Fisher, I guess the Ottawa Senators would be the lottery pick team, but you get the idea.) And, for that reason, many Nashville fans believe that Rinne should have taken the stage instead of Thomas. But, you have to understand, not only is there an East Coast bias but, plain and simple, Thomas deserved the award this year.
Matter of fact, you could even argue that Rinne lost the Vezina in third period of the opening game of the season when he went down with a leg injury. While he was credited with the win, backup goaltender Anders Lindback had to come in and save the victory. Lindback then had to start the next three games in place of an injured Rinne. All the while Thomas was in the middle of a 10-1-0 run with four — count 'em FOUR — shutouts. Even more impressive than the four shutouts in his first 12 games? How about only allowing 16 goals during that span? And while many a goaltender has stormed out of the gate on fire only to fade, Thomas never faded. He would go onto post nine shutouts, an incredible 2.00 goals against average and a ridiculous .938 save percentage. We won't get into his playoff performance (and his masterful work during the Stanley Cup Final) because that doesn't factor into the voting. Just know this: he was damn good.
So while many in Nashville believe Rinne deserves the award, Thomas wasn't going to be denied posting numbers like that. Especially posting numbers like that wire-to-wire.
Despite not bringing home the Vezina, congratulations to Rinne as he's finally being mentioned among the elite goaltenders in the game. Something fans in Music City have known for a couple years now.
—
PHOTO CREDIT: Jeremy K. Gover // section303.com