LIVE FROM NEWARK: Here's how the Preds can commit P.R. suicide today…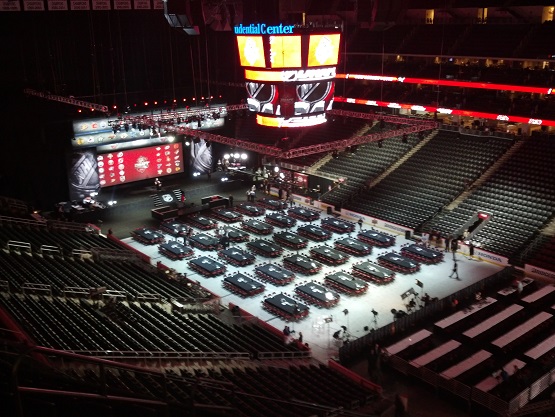 All of our draft day coverage is presented by Copeland Wealth Management. They help build and maintain wealth through a combination of customized direct investment strategies, trusted relationships and comprehensive financial planning. By helping you reach your financial goals, they reach their most important goal: becoming your trusted advisor.
***
It's been said before that the Nashville Predators have waited their entire existence for the opportunity to draft an elite forward. Thanks to an abnormally horrendous 2013 season, that wait could be over. Four of the top five prospects in this year's draft class are forwards and the Preds are slated to pick fourth, guaranteeing that at least one of them will be there when they take the Prudential Center stage today.
But the Colorado Avalanche threw a wrinkle in all of that two weeks ago when they came out and said publicly that they would be passing on Seth Jones when they pick first overall. Jones, an 18-year old defenseman, is generally considered the top prospect in this deep draft class. Colorado forwards Gabriel Landeskog, Matt Duchene and Ryan O'Reilly are all under 23 years of age and are their leaders on offense. Their only key piece on the blueline is Erik Johnson who has suffered from everything from ACL and MCL injuries to head injuries during his career. Jones would give Johnson a high-end defense partner and would give the Avs a well-rounded blue chip prospect to build their back end around.
If the Avs were, indeed, bluffing, the top of Sunday's draft board would probably look like this:
| | | | |
| --- | --- | --- | --- |
| 1 | COL | Seth Jones | D |
| 2 | FLA | Nathan MacKinnon | C |
| 3 | TB | | |
| 4 | NSH | | |
Instead, Executive Vice President of Hockey Operations Joe Sakic and new head coach Patrick Roy have both said that dynamic center Nathan MacKinnon is their guy. Many believe that to be posturing as the Florida Panthers (picking second) reportedly have the Halifax Mooseheads pivot at the top of their board. After all, if you're Colorado who's going to pick Player X, and you know Florida wants Player Y, why not try to get an asset or two by moving down a spot and still getting Player X anyway?
But let's assume for a minute that Sakic and Roy are being straight forward. If that's the case, the top of Sunday's draft board would look like this:
| | | | |
| --- | --- | --- | --- |
| 1 | COL | N. MacKinnon | C |
| 2 | FLA | | |
| 3 | TB | | |
| 4 | NSH | | |
Well now Florida's guy is gone, giving them no motivation to stay where they are. They can move back a few spots and settle for one of the other top forwards Jonathan Drouin, Aleksander Barkov or Valeri Nichushkin.
What does this have to do with the Preds?
"I'm talking to Florida and Tampa Bay to see if they had any interest of changing positions," Nashville General Manager David Poile said on Tuesday. "That would be because I have my mind on a specific player."
Then, a little later, Josh Cooper of The Tennessean asked him flat out if he would take Jones if he fell to the Predators at number four. His answer?
"Oh, 100 percent," he said. "No, no. 110 percent."
That echoed AGM Paul Fenton's comments on 102.5 The Game's The First Quarter a couple weeks ago.
"To me, Seth Jones if the number one guy in the draft," he said. "If he falls to four, that's a bonus."
It's no secret. Jones is the top player on Nashville's board. Yet they're picking fourth and therein lies the rub. If the gold medal winning blueliner falls to them at four, an argument could be made that they have to take him. Especially since three of the top four forwards will be gone already. The area of need for this team is offense, no question. But, if the organization's philosophy is to take the best player available — which it is — than they have to take Jones if he somehow avoids Colorado, Florida and then Tampa.
As a result, the top of Sunday's draft board could read something like this:
| | | | |
| --- | --- | --- | --- |
| 1 | COL | Nathan MacKinnon | C |
| 2 | FLA | Jonathan Drouin | W |
| 3 | TB | Aleksander Barkov | C |
| 4 | NSH | Seth Jones | D |
Not exactly what Predators fans want to see but, again, if you're picking at four and the best player on your entire draft board falls to you at four, you absolutely have to take him. As a fan, even if you don't agree with it, you at least understand the reasoning.
If the Predators trade up to get him, however, then they're going to have a public relations crisis on their hands.
Almost no justification for trading up to grab yet another defenseman in a draft would be acceptable to the fanbase. They want a scoring forward, the team needs a scoring forward and it just so happens that the top of the draft is chalk full of scoring forwards. Since they don't plan on picking this high again for a long time, this is Nashville's chance to finally start shaping their lineup around a young stud forward who can (eventually) be just as dominant up front as the team's leaders on defense and in net are on the back end.
If the Preds did trade up to get Jones, the top of Sunday's draft board would look like this:
| | | | |
| --- | --- | --- | --- |
| 1 | COL | Nathan MacKinnon | C |
| 2 | NSH | Seth Jones |  D |
| 3 | TB | | |
| 4 | FLA | | |
Of course, the draft board may look like that in New Jersey but, back in Nashville, there will be season ticket holders and die-hard fans carrying pitchforks and torches. Hopefully the Avalanche announce Jones' name when they take the stage and that possibility becomes an impossibility.
—
PHOTO CREDIT: Jeremy K. Gover // section303.com