LIVE FROM NEWARK: Preds get Seth Jones, top player on their board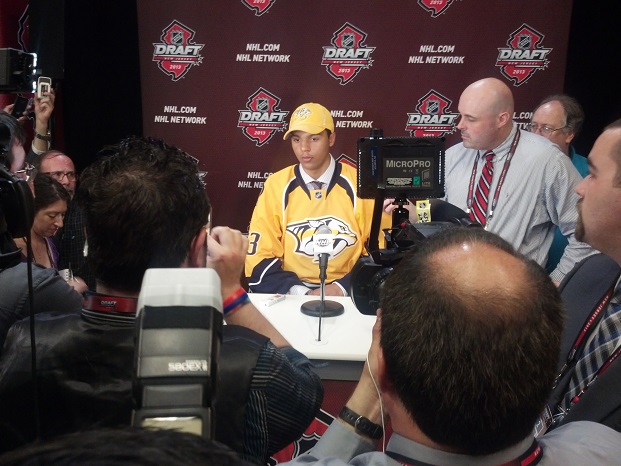 Our draft day coverage is presented by Copeland Wealth Management. They help build and maintain wealth through a combination of customized direct investment strategies, trusted relationships and comprehensive financial planning. By helping you reach your financial goals, they reach their most important goal: becoming your trusted advisor.
***
The Nashville Predators may have kept the fourth overall pick but they got the top player on their entire draft board.
"This is the first time we've ever gotten the top player on our list," General Manager David Poile said. And he should know. He's been with the organization from the beginning.
Seth Jones, the Portland Winterhawks defenseman, fell to the Predators at four and Poile and AGM Paul Fenton just couldn't help themselves. And nor should they have. The position of need — as it's always been in Music City — is a dynamic, scoring forward and there were four of them (five if you count Swedish center Elias Lindholm) in this year's draft class. But, when the top player on your board falls to you, you have to take him. At least that's what Poile explained just minutes following the pick.
"I wish we had the number one pick so then I wouldn't have to say 'I can't believe the player was there,'" Poile said. "We had Seth Jones rated number one. I would have been happy to have taken a winger or a centerman but Seth Jones was there at number four so we're happy with that."
The Colorado Avalanche were true to their word about picking Nathan MacKinnon first overall, the Florida Panthers then elected to go with Aleksander Barkov in order to get a big center for 2013 Calder Trophy winner Jonathan Huberdeau and then Tampa decided to get a talented winger for Steven Stamkos when they chose Jonathan Drouin third. That run on forwards meant the Predators were staring a tough choice right in the face. Do they go with the blue chip defensive prospect who is ranked at the top of their board or do they finally address their franchise-long need for a scoring forward?
"I absolutely thought we were going to get a forward,'" Poile said about his reaction after the lottery in April. "MacKinnon's performance at the Memorial Cup changed a lot. If you go back to before the Memorial Cup, there's not a chance anybody had this order (of players)."
Phil Housley, the new Predators' assistant, was Jones' head coach during the 2013 World Junior Championships.
"I was very surprised but, I'm telling you, I was really happy at the same time," Housley said, smiling from ear to ear. "After that third pick was announced, I was like 'Oh man, this is great.'"
Housley led Jones and Team USA to gold in Ufa, Russia this past January and have spent a lot of time together as a result. Also, a former NHL defenseman himself, Housley is the second leading American-born scorer of all-time so he knows how to identify talent.
"If you look at a lot of the great defensemen who have played the game, you don't know if you're up five or down five with these guys," Housley explained. "Their body language is the same and that's how (Jones is)."
Poile agreed.
"This is a franchise type of player so I really feel good about our defense, I'll tell you that," Poile said. "The focus, now, turns to improving our forwards."
And while Jones is set to become a heck of a player, Predators fans will be happy to hear that.
—
PHOTO CREDIT: Jeremy K. Gover // section303.com