LIVE FROM RALEIGH: Weber takes second in Hardest Shot…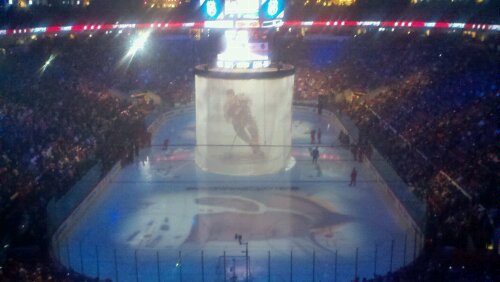 The hardest shot was stolen from Shea Weber two years ago.
Tonight in Raleigh, it happened again.
Just like in 2009, Boston Bruins defenseman Zdeno Chara out-blasted the Nashville Predators captain at the end of the hardest shot competition to take the title. The lone representative of the Nashville Predators led after the initial rounds with the speed to beat of 104.8.
In the final round, Chara found that extra strength setting a new all-time record at 105.9. As a result, for the second All-Star Weekend in a row, Weber was forced to take the runner-up position.
Chara's winning strike broke his own record of 105.7 mph.
—
SPECIAL THANKS to the section303.com Road to Raleigh sponsor Communication Elements. If you're a small business in need of marketing or public relations, check them out.
—
PHOTO CREDIT: Jeremy K. Gover // section303.com