LIVE FROM THE NHL DRAFT: Second round targets for the Preds…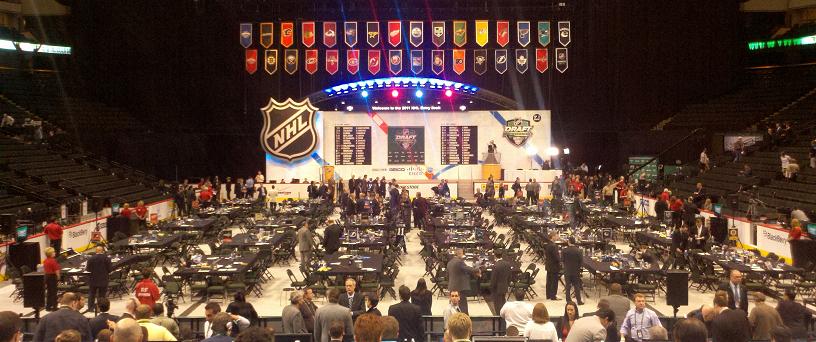 Well Friday came and went and the Nashville Predators stood pat without a first round pick in this year's 2011 NHL Entry Draft. A new day is upon us and that means Nashville will have picks #38 and #52 in the second round as well as six more after that. So, of the players still available, who are some names to keep an eye on?
The following three players are still on the board and, with the Predators first selection being just eight picks away, it's a good chance at least one of them will be there for the taking. Factor in that not a single goaltender has been taken and the probability increases for at least one to survive.
But which will it be?
ALEXANDER KHOKHLACHEV || C || Windsor Spitfires (OHL)
Every time you looked at a Windsor Spitfires boxscore to see if 2009 first round pick Ryan Ellis appeared on it, you'd almost always see another name. That name? Alexander Khokhlachev. (Need proof? Check out our blog from January 28.)
Khokhlachev may be Russian but don't hold defected Nashville Predators star-in-the-making Alexander Radulov's mistakes over his head. The fact is, unlike Radulov, Khokhlachev is a two-way forward with tons and tons of skill. His 34 goals and 76 points for the Spitfires this year confirms that. Also, he chose to play junior hockey in North America instead of the higher-paying KHL in his native Russia. And, on top of that, a lot of his goals came from — get this — in the front of the net and/or required some grit to make them happen. Basically, in short, he's a well-rounded player with all of the necessary "Predators Way" qualities: hard work, determination and grit. Oh yeah, and the not-so-"Predators Way" quality: skill.
And the reason the Preds will be interested in Khokhlachev is because of Ellis. They've been watching him all season long, evaluating his game. And when a draft-eligible player seems to be on the receiving end of your prospect's assists, you take notice of said player.
Said player, we believe, should find a home alongside his Windsor captain in the Predators system.
TOMAS JURCO || RW || Saint John Sea Dogs (QMJHL)
You know how, when you watch a really good guitarist like Eric Clapton, Tim Reynolds or Carlos Santana, their instrument seems to be more of an extension of their body as opposed to an object they pick up and play? Well, that's the same thing with a hockey stick and Tomas Jurco.
If you've never been privileged enough to see a Jurco highlight, don't worry. Feast your eyes on this:
If the Predators end up with this kid, Colin Wilson will actually have some competition during those shootouts in practice. Yikes.
ROCCO GRIMALDI || C || United States National Development Team
The heir-apparent to Steve Sullivan? Maybe. Rocco Grimaldi, like Sullivan was when the New Jersey Devils chose him in a round so late it doesn't even exist anymore, is a long shot to make the NHL because of his size. At a mere 5'6″ a lot of teams may not want to "waste" a pick on the Rossmoor, California native, despite him being ranked as high as the 18th best player in the draft by ISS. The Hockey News has taken that prejudice into consideration and ranked him at a more conservative #32 but, let's be honest, there are a lot of teams who won't take even a flier on a guy that small.
So why would the Predators be interested? Because Grimaldi is a dynamite goal scorer and, like we mentioned before, they don't have many of those. With his size, he'll probably be moved to the wing once he hits the pro level but he shouldn't be worried about that when he dons that North Dakota sweater next year. While you want a player who has more of an NHL physical make-up, you can't be picky when your first draft slot is in the second round. Especially if one of your main needs is a goal scorer.
—
PHOTO CREDIT: Jeremy K. Gover // section303.com