Maligned players respond as Preds win…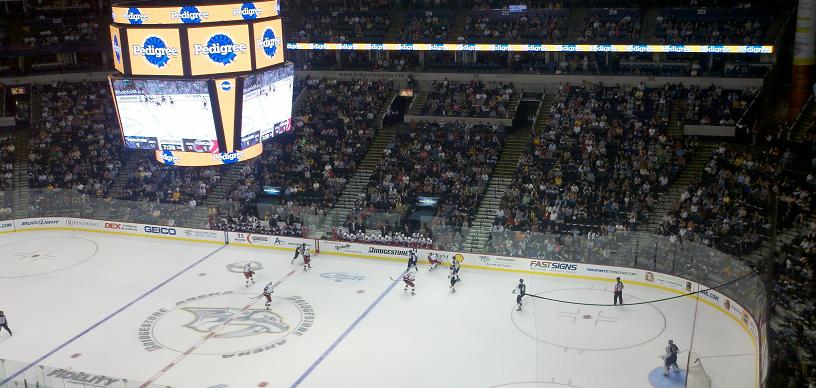 Nashville Predators Head Coach Barry Trotz called out certain players in The Tennessean this morning and, what do you know, those certain players responded.
The Preds got goals from said players David Legwand and Martin Erat as well as Colin Wilson and Sergei Kostitsyn en route to 4-1 victory over the Detroit Red Wings at Joe Louis Arena.
Pekka Rinne continued to force his name into the Vezina Trophy conversation with 34 saves. He is now 2-1-0 against Detroit this season.
Nashville had beaten these same Red Wings last Saturday night 3-0 but then had a tremendous let down against the Western Conference's worst team, the Edmonton Oilers. The Oilers blasted the Preds 4-0 on Monday night, prompting Trotz to blast his big money players in the papers.
"Where's Legwand? Where's Erat? Where's Hornqvist?" Trotz told Bryan Mullen of The Tennesseean. "Where are the guys who are supposed to score?"
All three of those players responded. Erat and Legwand scored the first two goals of the game and while Hornqvist failed to show up on the scoresheet tonight, he played a solid game and created chances all game long.
This was the first road win at Joe Louis Arena in franchise history in which thr Preds have won by more than one goal.
Nashville will host their GnashVegas Casino Gala tomorrow night and then their Fangtastic 5K on Saturday morning before they face off against the Colorado Avalanche and (maybe) Peter Forsberg.
Puck drops at Bridgestone Arena at 7:05pm.
LEFTOVER THOUGHTS:
* Detrot goalie Jimmy Howard gave up 4 goals on 16 shots before being pulled in favor of Joey MacDonald.
* Marcel Goc left the game late in the first period with an upper-body injury. He did not return but, at one time, was expected to.
* Steve Sullivan apparently didn't listen to Trotz and his shoot-first lecture. He passed up a clear shot with two teammates in front waiting for a rebound.
* Sullivan later tried to make a move around all-world defenseman Nicklas Lidstrom… at his own blueline. Lidstrom wasn't fooled and kept the puck on-side.
ADVANCED STATISTICS:
[table id=10/]
—
PHOTO CREDIT: Jeremy K. Gover // section303.com
ADVANCED STATISTICS: Patten Fuqua // section303.com (sourced with data from TimeOnIce.com)